A Moda Scrap Bag Makes A Baby Quilt, Table Runners, And Tons Of Fun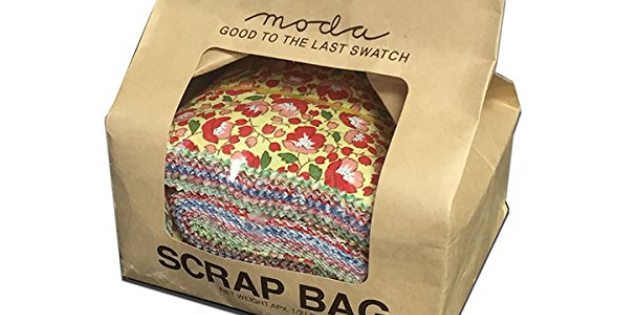 <!- google_ad_section_start -> |
Moda's Scrap Bag Almost A Full Jelly Roll.
The Moda Scrap Bag contains a certain weight of fabric scraps from a particular Moda line, usually strips that range in size from 2 to 3 inches wide, and more than 32 inches or more in length. The strips are generally from one of Moda's fabric collection, so prints and colors are perfectly coordinated. It's almost as nice as a jelly roll, costs much less, and every bag is a surprise! But what can you make from them?
You won't have any trouble finding something to make with these scrap bags! They're so cute, and you can see the prints through the window of the bag. Many of them contain strips about 2 1/2″ to 3 1/2″ wide and include the selvage since they're cut from the length of fabric. After trimming, they're like a jelly roll, and often contain strips longer than 42 inches. If you like scrappy quilts they'd make a good addition to your stash.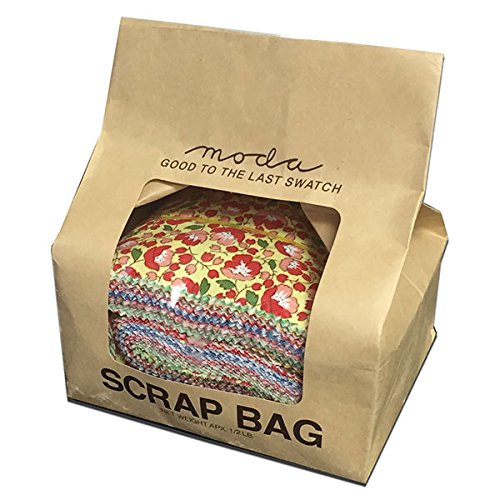 If you're wondering what can be made from this fun filled bag of surprise fabric strips, all the designs in a single fabric collection are packed into a bag and any jelly roll or jelly strips project can be made. With the addition of a little yardage, stitch up this pretty Scrap Bag Baby quilt, or make a throw, even using the selvage edges!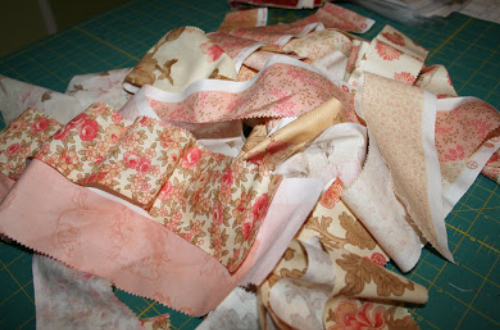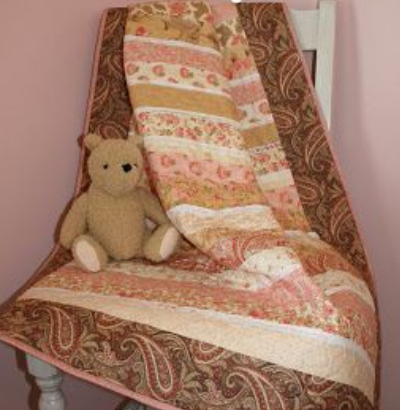 Make up this Moda Scrap Bag quilt at Tea Rose Home. How pretty! Find the free tutorial here.  Placemats and runners could be some great, quick projects.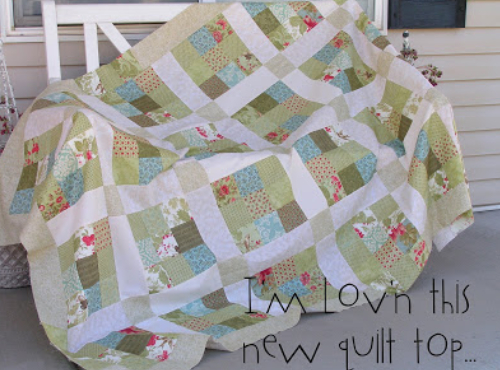 A full sized log cabin bed quilt can also be made using 2 Moda scrap bags and a couple yards of fabric that read neutral or low volume. Extremely cost effect.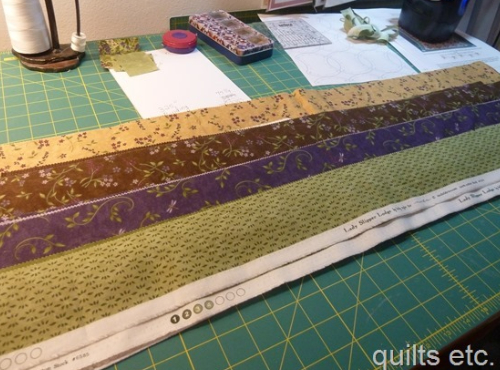 Loving scrappy quilts, the home style look and feel of random fabrics is very appealing. These bags are fun. There are tons of lovely strip quilt patterns you could try.
<!- google_ad_section_end ->