Baby Quilt Pattern Pink Fabric With Tiny Stars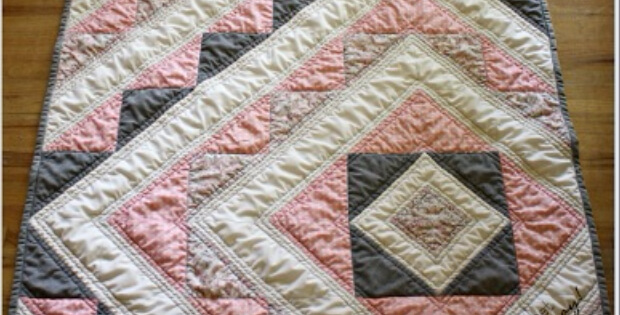 <!- google_ad_section_start -> |
Imagine Using Tiny Stars In This Baby Quilt Pattern
A baby quilt pattern mixed between soft and gentle, but also smart and trendy. Is there such a baby quilt? Pink white and grey are always a very good combination. The pattern is made with half square triangles that are arranged in a very unusual way to make the quilt look really up market, yet still soft enough for baby. While we all love little animals and cartoon characters for our baby quilt patterns, it's a nice change to be bit dashing.
Once the half square triangles are put together following this method, you'll notice a very ususual way of assembling the blocks to get an off set diamond block to the right. The final design was arranged using Corel Paint for the layout of the blocks. Any Paint program will work to get this sort of diagram.
However, follow the pattern to make the half square triangles. Once you have the blocks assemble the blocks in the same order to get the design.
The diamond block is the focal point. To get this effect, it needed a bit of chopping and stitching, but look at the result.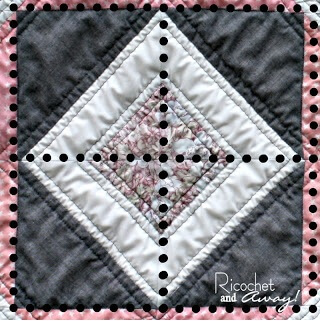 Here's the basic idea of how it was done. There are full instructions with the baby quilt pattern.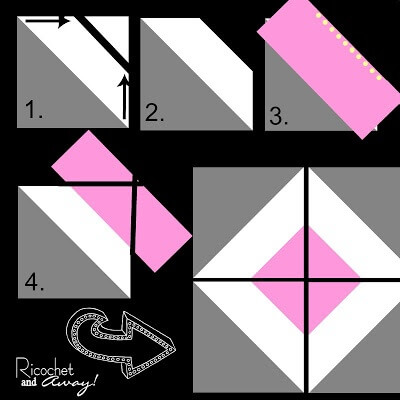 This is pretty much what you'll be starting with for this baby pattern:
Pink with tiny white stars, a solid grey linen, a floral print, and a white sheet.  All squares should be cut 10 inch by 10 inch. Cut 15 white, 7 pink,  4 floral and 4 grey. Pair up the white squares with each of the colors/florals and make the half square triangles as shown in the pattern. The HST blocks are outlined with a black dotted line in the photo to give you a better overview.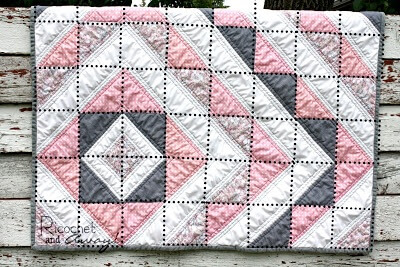 And this is the result…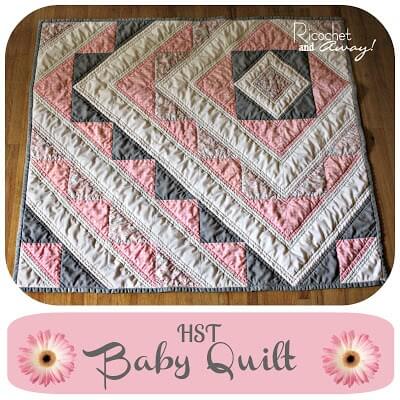 <!- google_ad_section_end ->