Baby Raggy Quilt That Wraps Around Your Heart
<!- google_ad_section_start -> |
Imagine Wrapping Baby In This Cuddly Baby Raggy Quilt.
Cute raggy quilts make the best quick baby girl quilts. This baby raggy quilt uses pink and brown flannel squares in a concentric pattern for an adorable baby quilt. Baby rag quilts are wonderful for infants because they love to play with the exposed seams. Rag quilts are also so simple to throw in the washing machine and dryer. Make this baby quilt pattern for an upcoming baby shower or for your own little one. Adjust the color combination accordingly if it's
a boy.
If you have never made a quilt before, a raggy is a great place to start. Even if you are new to sewing,it's easy to make a gorgeous rag quilt! Here's a step by step process of how to make a rag quilt. It's really quite simple, but does involve a few steps. Follow these raggy quilt directions just in case you have a sudden desire to make an uber cute baby blanket.
Fabric Tips:
-Flannel is the best fabric for rag quilts, because it frays the best.
-Cotton also works really well, it just doesn't make seams that are quite as soft and fluffy. -Minky does not fray, so it isn't the best choice for a rag quilt. You can use it on one side, but if you use it on both your seams won't fray, they will just look sloppy. If you do decide to use it on one side, I'd recommend using flannel for the other side.
-If you use cotton or flannel, I recommend washing the fabric first.
Here's a great idea if you're not using a design board. Cut out 1″ squares and lay them out in the design that you want. Lay them on felt as it stops the squares from moving around. When you put your rag quilt together, it's easy to check back on your layout.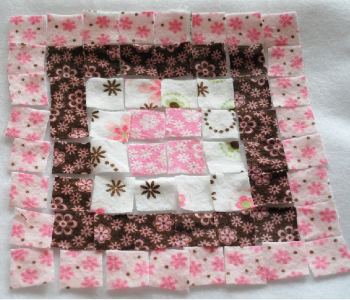 Fabric:
-Flannel 1 1/4 yards for each side – Total of 2 1/2 yards. But you will have to work out how many squares for the border, the inner rows and the four squares in the middle. It depends on your design layout as above.
Flannel Fabrics assorted patterns and colors from which you will cut 64 x 5 inch squares
64 x 5″ squares for the backing . In this pattern tutorial the backing fabric is pink.
–Warm and Natural Batting– around 1 1/4 yards. Cut 64 squares 4″x 4″
Finished Quilt Size: 32″ x 32″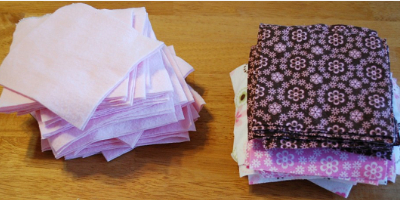 You will also need to be using
– Fabric Scissors

– Spring Loaded Scissors
 for clipping the seams not essential but you'll be glad to have them as there is a lot of snipping going on with a raggy quilt.
– Sewing Machine
 and thread that matches your fabric.
Cut out your squares. Refer to your baby raggy quilt layout to know how many squares of each fabric you need to cut.
Lay the first square right side fabric down. Place the batting on top and center. Place the next square on top with fabric right side facing up. Pin. Then stitch an X through the middle of the square. Stop stitching, leaving 1/2 inch from each corners edge. As a guide, you're sewing up to where the batting is. Repeat till all squares are done. Be sure to refer back to your pattern layout so the squares are sewn correctly.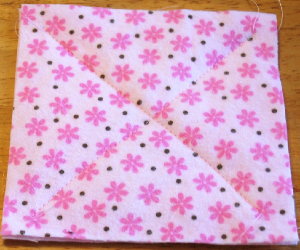 Take one square "sandwich" and lay it right side down. Place another "sandwich" right side up. Straight stitch down one side with 1/2 inch seam.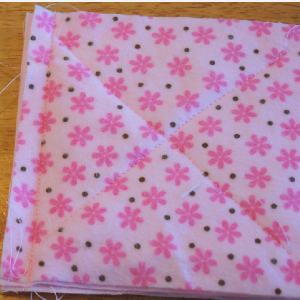 Open up the blocks…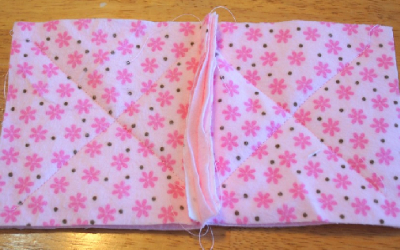 Repeat until you have sewn eight blocks across.



Next row. Take the first row and lay it right side down. Place the second row on top, right side up. Match up all the seams and pin them together.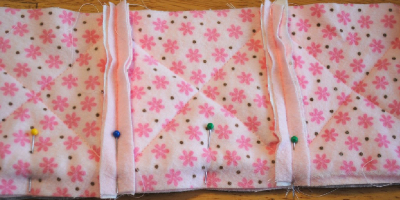 Now sew down the side, using a 1/2″ seam. Sometimes it is a little tricky getting it even. Just work it through and watch that it doesn't bunch up underneath. Second row done.


Continue till all blocks are sewn.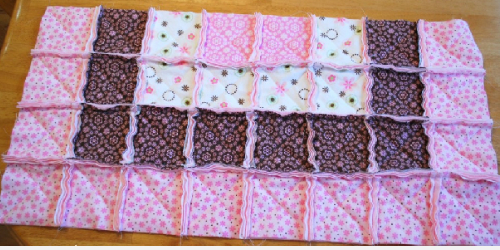 To finish simply sew around the edge of the quilt. Sew a straight stitch all the way around the edge, using a 1/2″ seam. Now this is about the time you'll be so glad you have the spring action scissors. Just go ahead and snip all around the quilt, each cut about 1/2 inch apart. Cut close to the seam but be sure not to cut the seam!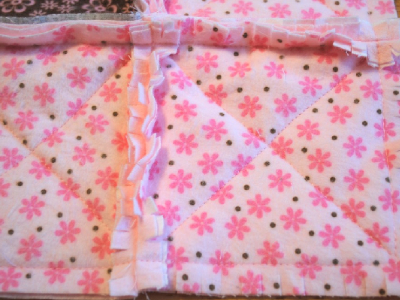 Once all the edges are cut throw the raggy into the washing machine. Wash on cold cycle, then throw into the dryer. When it comes out the baby raggy quilt is all ruffled and fluffy!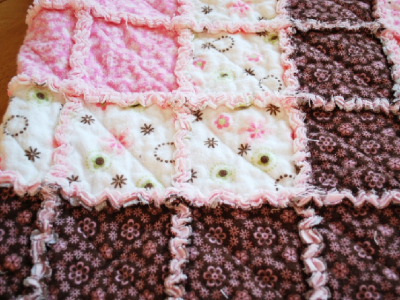 Article Source:creationsbykara.com
<!- google_ad_section_end ->