Batik Fabric Left Overs To Make This Easy Braided Mug Rug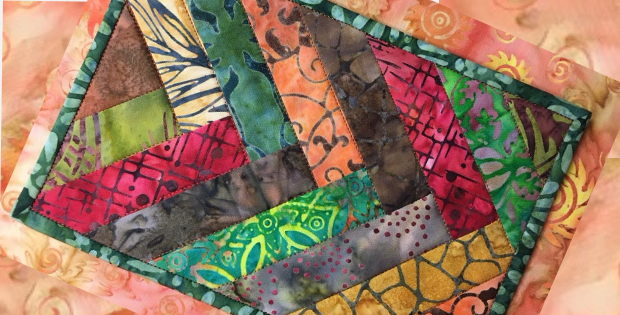 <!- google_ad_section_start -> |
Braided Mug Rug From A Few Strips Of Fabric Super Quick Too.
Batik fabric gives this braided mug rug extra dimension, looks so impressive, and is one of the easiest designs. Anyone can make these! The braid is simple to do and the mug rug sews up in no time. Strips, sew and trim! It's fun to see it come together so quickly and before you know it you have a set of Batik mug rugs on your table. There are boundless batiks available in a myriad of colors to suit any decor, style or theme. Use fabric strips from left over Batiks or other similar fabric, or a Charm pack in the colors of your choice.
Batik fabrics remind me of jewel stones. They're so rich in color and have a depth of color very much like the azure of a tropical lagoon. Capture that bejewelled effect creating a braid from Batik strips to make up a couple of these mug rugs. Mix dark blues and magenta's to create cool depths, or choose rainbow batiks in bright lime, aqua and deep coral for summer. Sand and stone for soft neutrals, and Sunrise batiks for a holiday home or on your porch.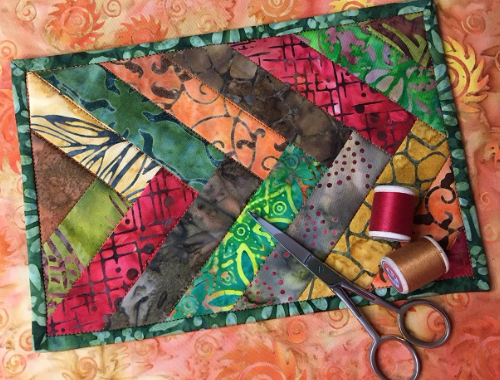 All that is needed to make the braided top is 15 strips cut to 1½" x 5″ , and a 3″ square cut on the diagonal, from which you will need to cut one triangle. To complete the mug rug you will need one piece of fabric 7″ x 10″ for the backing, one strip of binding, 30″ long, and a scrap of batting at 6 1/2″ x 9 1/2″. That's it!
Once the strips are sewn together as instructed in the pattern, trim the braid unit to 6″ x 9″. Layer the braid using the batting and backing fabric, and bind. Super easy stitch in the ditch quilting with co-ordinated thread and you're done. Enjoy your new batik braided mug rug!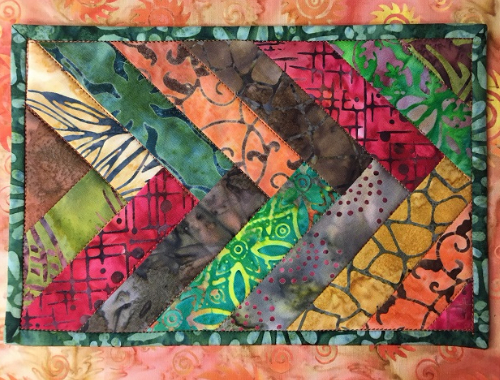 <!- google_ad_section_end ->