Classic Patchwork Bibs For Your Darling Baby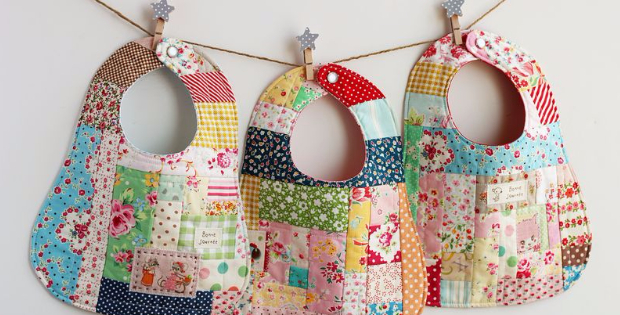 <!- google_ad_section_start -> |
Bibs Are Extra Special Made With Patchwork.
Make up this classic baby bib, good for a girl or boy, with a thicker neck shawl to provide more coverage at mealtime and an easy snap finish.  Using patchwork makes a colorful and interesting little bib with a vintage country home feel, just right for a loving family and new mom.
These bibs make the most delightful gifts and the nicest ones come out of your colorful scrap bag! For the girlie ones choose florals and pretty pinks and yellows, with peachy colored polka dots and kitten mitten prints. Sew randomly together to create the prettiest patchwork, then use the template provided to make the bib.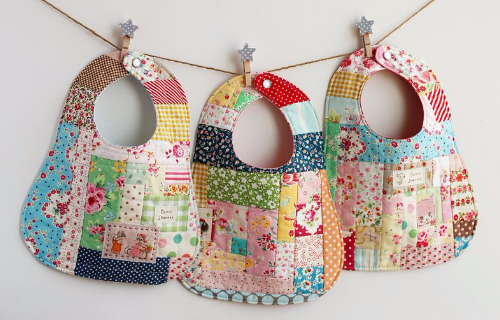 The template provides the two part bib shape, has a generous neck shawl and finishes with an easy snap fastener. They're so practical and pretty enough to add to a frilly white dress for a trip to the shopping mall. Finish the edge neatly, or leave a raw edge. Add a cute rabbit for an Easter bunny baby.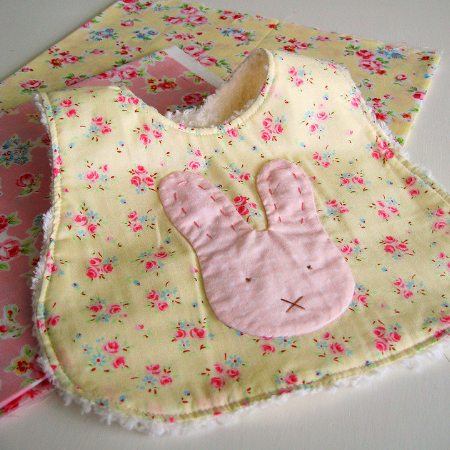 When making for a boy, find scraps in crayon colors, grey stripe and dark blue and white spotty print. Piece a strip of triangles to go right across the front. Any new mom would be delighted to drape her little one in this bib. If you're handy with hand stitching, embroider the baby's name on the bib to personalize a gift, and it's sure to become a keepsake.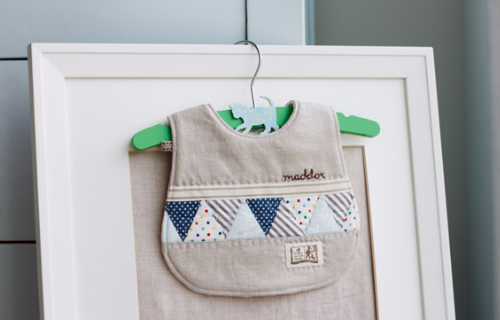 Using the same template, Amy from Nana Company made the most adorable girly girl bibs with fussy cut Pam Kitty. Use any favorite character. Leave a raw edge for a soft modern effect, and to also save time.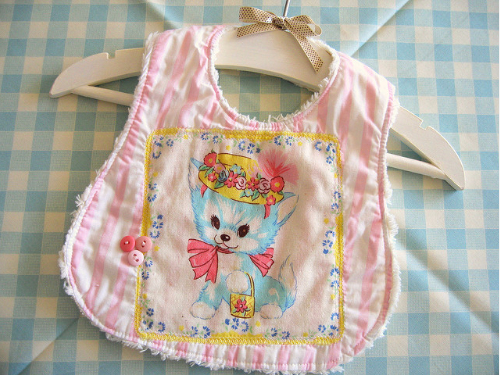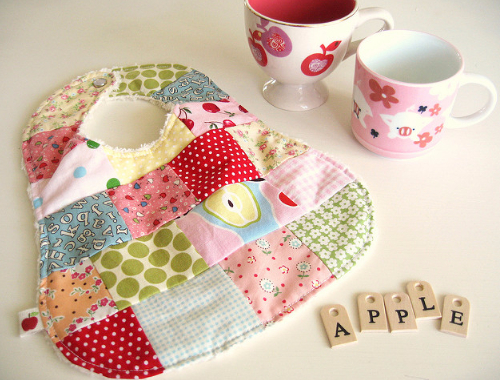 Using the template provided these bibs are so easy, you could make a set of three in an afternoon.
<!- google_ad_section_end ->