Create The Perfect Wintry Scene With This Two Color Norway Quilt.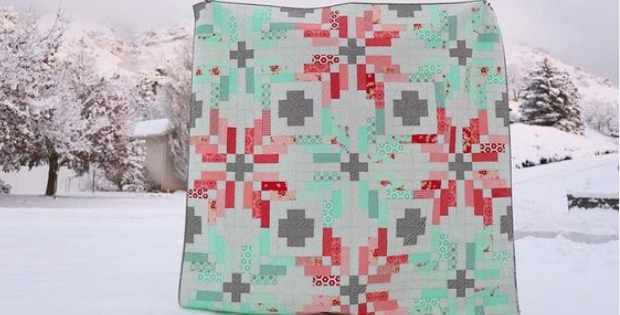 <!- google_ad_section_start -> |
Norway Quilt In Red And Peppermint Green For Your Most Frosty Quilt.
This Norway quilt is a wintry scene to remember. Using two main colors, red and peppermint green, places the wow on this quilt. It is a awe inspiring snowflake quilt in it's simplicity. The peppermint is luminous against the snow. The fabric line is Handmade by Bonnie and Camille. You might never have given Norway a second glance until now. It is one of the most fantastic designs and showcased in these colors! This is a perfect winter quilt.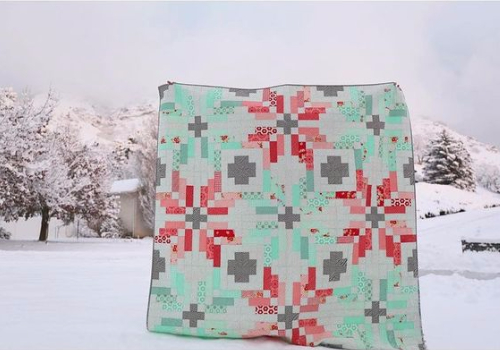 A bold scandinavian feel with Thimble Blossoms Norway quilt. Go bold with traditional Nordic colour's or mix it up with modern fabrics for a different look! Large piecing makes this ideal for beginner quilters. The block is a 26″ . The picture of the quilt against that snow,  it's breathtaking.
The Thimble Blossom design is also available as a Norway Mini quilt. Here you get a close up glimpse of the design. It helps makes sense of the design when you get a look at the complete block.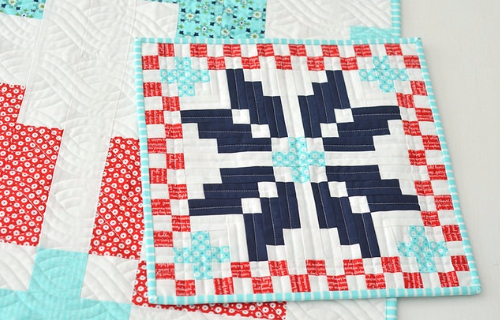 The 'times two' idea for quilts offers another dimension. Make the quilt and add a mini (or two) as a table topper, mini wall quilt or a scatter piece on a chair. Or make the Norway mini first to get the feel of the block… play around with colors on a small scale. The mini finishes at 12.75″ x 12.75″.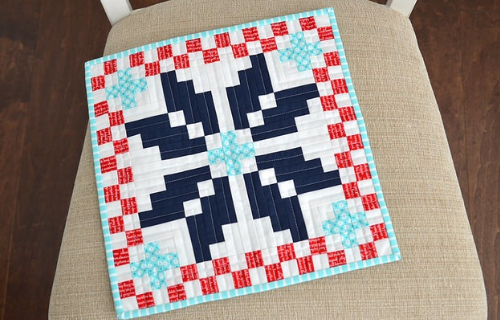 As a total turn around, here's "Norway" in time for summer! From Jen and Holly.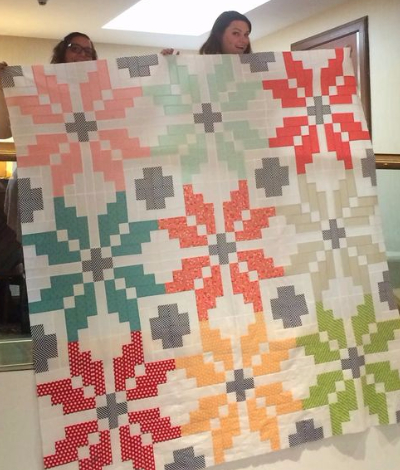 Norway Thimble Blossoms is available for purchase, and Norway Mini is available for purchase as a seperate pattern.
The quilt finishes at 78″ x 78″ and the Norway Mini finishes at a quanit 12.75″ x 12.75″.
<!- google_ad_section_end ->