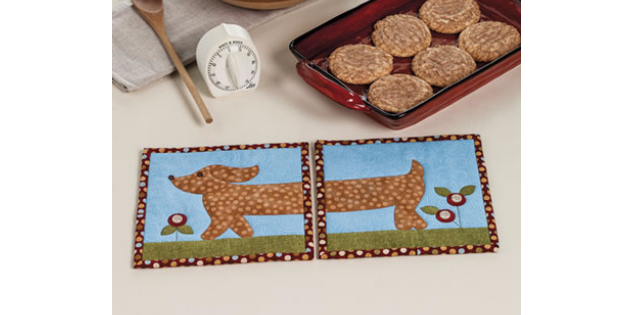 <!- google_ad_section_start -> |
Two Hot Pads Together Make A Doxie.
The perfect project for dog lovers. Due to the sausage dog nature of a Dachshund, the hot pads are made in two parts. They're fun for the kitchen, but useful too, as the idea is to put two together when needing to put something under a long baking dish. Putting the hot pads together reveal a jaunty doxie and will delight anyone who loves doggie decor. Quilted cats and dogs are always a favorite, and these doxies are at the top of the list.
They're perfect to personalise for a dog lover, and especially for those who are crazy about their dachshund. A super simple pot holder to stitch up with fusible applique for the dog and a quaint garden scene, make up a set in no time. Fabric scraps in any sort of print for the border, and there are so many bits and pieces in a scrap bag to make the dog. Fusible applique is really easy, anyone can make these dog hot pads. Muted green for the grass along with a blue sky is exactly the picture of a cute dog happily skipping across the garden, tail up and ears flapping. This doxie is on the way for his morning walk! It's all over his face!
The pattern is from a book 'Quilted Cats and Dogs' If you're an animal lover and enjoy incorporating your love for pets into your quilting, the book has a mix and match of thirteen heart melting projects. You'll make them all, more than likely starting with this deliriously cute doxie pot holder set.
<!- google_ad_section_end ->