Delectable Mountain Blocks For A Scrappy Quilt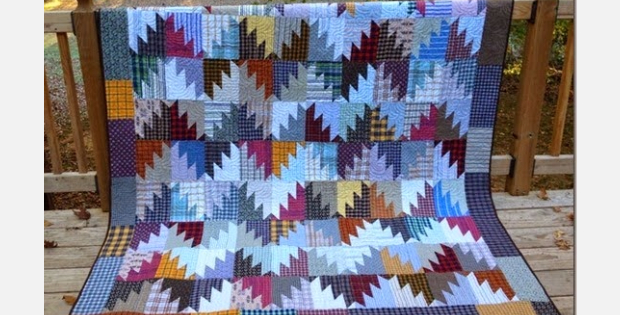 <!- google_ad_section_start -> |
With So Many Designs By Flipping The Blocks.
Mounds of Majestic mountains make up this exciting design with endless possibilities flipping the blocks different directions. To cheer up this block go scrappy with colorful prints using dark and light. This striking quilt was made using plaid fabric from recycled shirts! The blocks are more simple than they look, then place in rows and the design simply happens.
With lights and darks the delectable blocks become an ocean of mountains with playful scenes of light skies, dark mountains and  splashes of colorful seasons. It only takes small scraps to make a quilt that resembles the rugged landscape of the mountains. Bonnie Hunter suggests starting with one of her Mountain Majesties block to get it down to a tee. The block becomes a work of art having one dark and one light in a half square triangle, cut into strips to create the 'peaks'. Then arrange in uphill and downhill blocks. Position the blocks to create the scene, a dark mountain with a light sky, or turn the block and create a light snow capped mountain with a dark sky. It's easy, fast, and fun, uses up a lot of scraps and works beautifully as the only block in a quilt.
Bonnies scrappy Mountain Majesties can be used to make this beautiful quilt made with blues, greens and wine fabric, with colors calming like the mountains and made entirely from scraps. Recycling old shirts make these mountains extra special.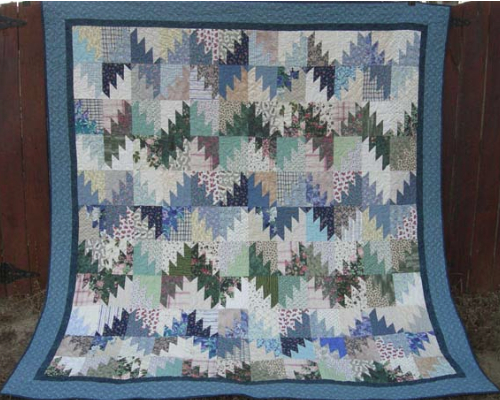 Bonnie from Quiltville shows the results of turning the blocks for the most interesting designs. Her easy tutorial shows a step by step method, including sizes to make a lap quilt and a full quilt, along with tips to make the quilt bigger and how to adjust the blocks.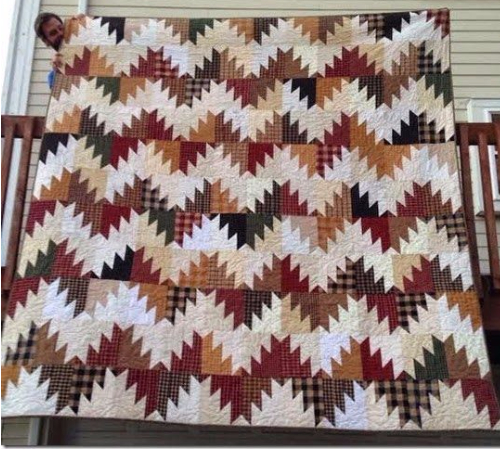 <!- google_ad_section_end ->