Dresden Plate Ruler Makes A Perfect Dresden Purse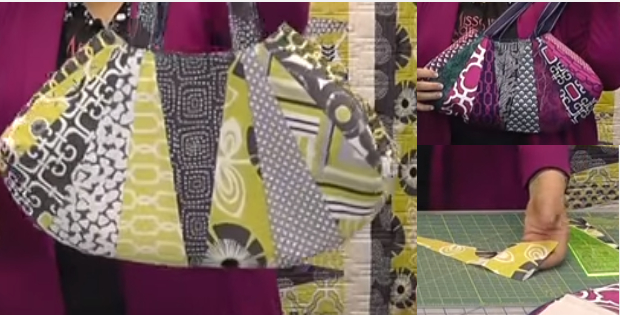 <!- google_ad_section_start -> |
Use A Dresden Plate Ruler To Make This Gorgeous Dresden Purse.
The starting point is show you how to cut a dresden using a dresden plate ruler. You get three dresden pieces out of one 10″ layer cake square using this dresden tool. The purse in this pattern is made using Michael Millers Citron Grey Pastel Pops fabric in yellow, and it also comes in purple. The fabric creates it's own personality for this dresden purse.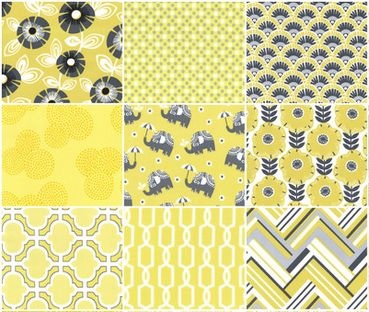 To calculate your fabric, you will need
22 dresden cut outs – 10 for each front and back.
The other 2 will be cut in half and used for the sides.
3/4 yard lining fabric-This will be enough for 4 1/2 inch strips for the handles.
2 yards of Pellon woven fusible interfacing – You'll be lining the inside and the outside which gives the bag a lot of body and support.
To make the front:
Cut 22 dresdens in total using the dresden plate ruler.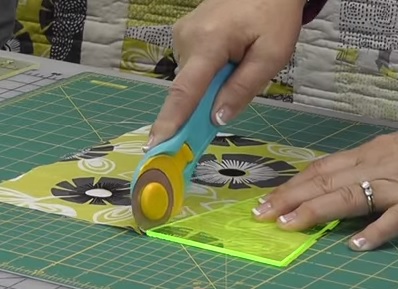 Choose 10 dresdens you would like to put together and lay them out.
Take one dresden to start the pattern off. This will be the middle dresden and it will be pointing down.
Stitch another 4 dresdens to the starting dresden, that will all be pointing upward to create the rounded outer edge.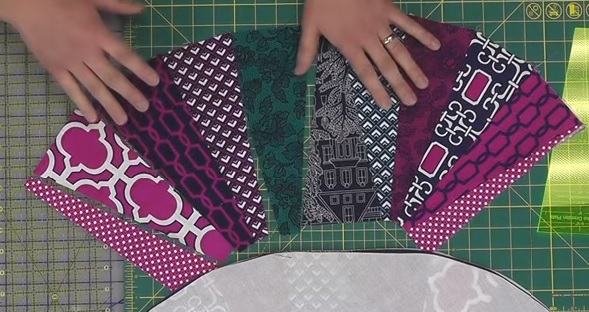 Stitch right sides together. Then stitch on one of the half cut dresdens. The half cut should be pointing upwards.
Press all seams one way towards the half piece.
Repeat with the other 5 dresdens plus half piece.
Stitch two panels together to complete the front.
Apply the interfacing.
Wow look at the panel. Use that panel as the template to cut out the lining and interfacing. Too easy!

Stitch the second panel for the back of the bag. Apply interfacing. Stitch panels right sides together.
Box the corners. Line, attach your handles and you're done.
If you're loving this pattern, I put the a dresden purse video tutorial here that shows you how to use the dresden plate ruler and how to make this purse using dresden cuts.

Click Here To Get Your Dresden Tool
Imgs:Missouri Star Quilt Company
<!- google_ad_section_end ->