Extra Raggy Quilts In Soft Pastels and Calico For More Snuggle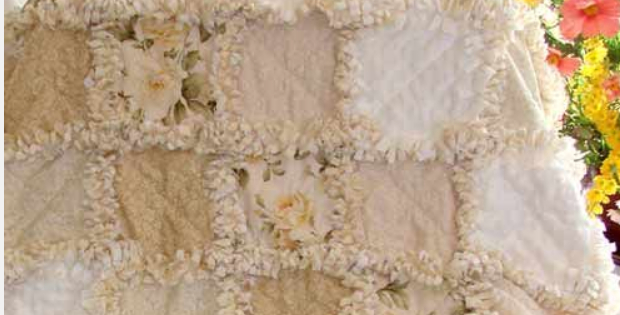 <!- google_ad_section_start -> |
Extra Raggy Quilts Even More Snuggly In Soft Colors
When you sew the blocks for an extra raggy quilt, make sure you leave a 1-inch seam allowance so that you have a little bit more fabric for the fraying. This basically means that if you want a quilt that is 90″ by 90″ then you need to use 11″ squares, as each will lose an inch on either side. Raggy quilts made with soft pastels, creams, calico's and a row of floral running through seem to be even more inviting.
Flannel, chenille, and homespun are thought to be the best fabrics to make a rag quilt.
The Ultimate rag Quilt:
1″ seams
3 layers of flannel.
Use a dryer ball to help rag/fluff the edges.
Currently looking for a full pattern.
For this example we will be making a 4×6 quilt using 10″ blocks, which means the finished size of the rag quilt will be 32″x48″ (as opposed to 40″x60″).
Cut the top, bottom and filler into squares. Make sure everything is balanced out and that you have the right number of each color and fabric type on the top and bottom.
Place the backing squares the right side facing down, then a filler square, and the top squares right side up. Do this for all of the square piles.
You need to quilt each square one-by one with an X through the middle. Squares, hearts, stars, stipling or whatever you fancy all look great. As each block will be quite small (only 10″x10″) you won't need to tack or baste, pins will be fine.
Make sure you always leave the 1-inch seam allowance out. Don't worry to much if you accidentally go slightly past the border, however if you sew right to the edge you will have to unpick. Machine sewing is usually the fastest and best way to quickly and simply quilt these blocks. Using a walking foot will help the fabric be more stable so tucks and puckers don't occur.
Sewing with one-inch seams, join 4 sets of squares in a row. The raw edges must be turned up to and facing the top squares not the bottom/backing squares. Then press the seams open between the squares.
Sew the rows together matching up the seams. Always sew with the raw seam towards the top of the quilt. It's a good idea to sew the seams open as this will reduce the bulk of sewing over seams that are turned to one side.
After you have joined the 8 rows, sew an inch inside the outer border all around the quilt.
Fraying
Using heavy-duty or spring loaded scissors, cut lines in the seam allowances around 1/4 inch apart. Try to cut as close to the seam as possible without cutting it.
Please note that if you are using batting then you will need to quilt the squares before you pop them through the washing step. If you are using flannel then this is not necessary.
Minky has been used for some of the blocks for this raggy quilt for extra cuddly!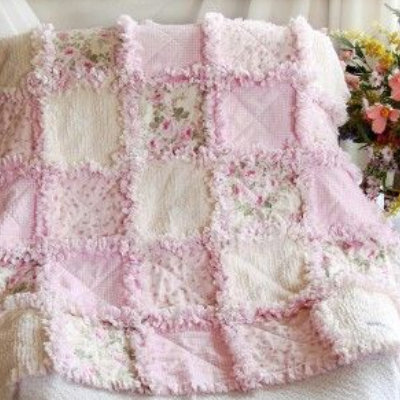 Soft baby quilt.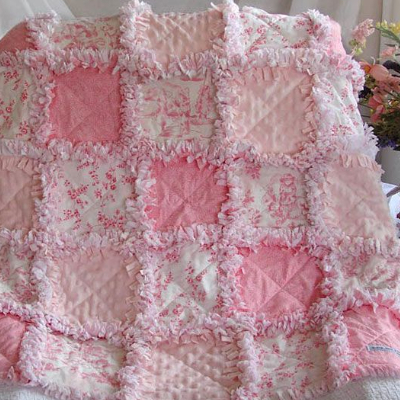 Extra raggy in creams, calicos and roses.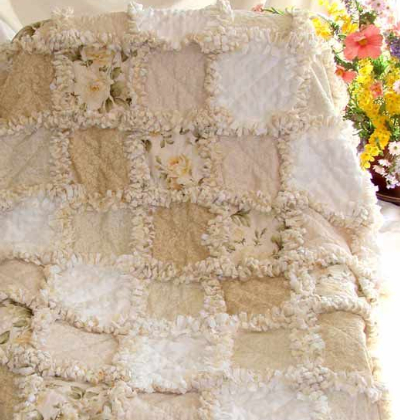 All pink pastels and floral.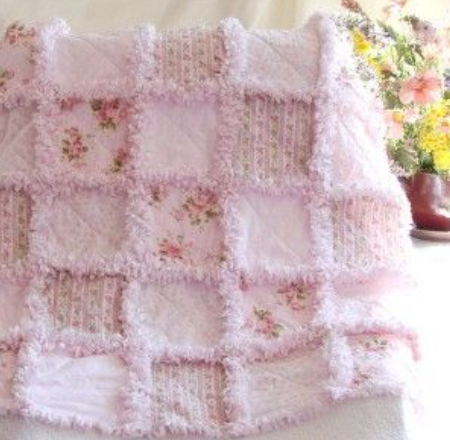 These extra raggy quilts are so inspiring.
<!- google_ad_section_end ->