Fabric Boxes For Sewing or Anything Else
<!- google_ad_section_start -> |
Simple Enough To Complete In An Hour.
Stitch up these cute fabric boxes that can be used for sewing, or anything around the home and even as a quick gift. These useful boxes are much more stylish than a cardboard box, and provide a little new decor into the sewing room! These easy boxy bags will suit all sorts of needs, fit nicely on a shelf, and look really cute, a fun caddy for sewing supplies and trinkets.
Any bright colorful prints make up these trendy boxes needing only two 10 inch squares or 10 inch layer cakes, plus a piece of batting usually a little larger.  The boxes can be made using 9 inch or even 12 inch square fabric with a layer of batting to make them nice and sturdy. Straight line or any style of quilting bolster and pop up the texture, and cute buttons fasten down the flaps on all four sides for a nice finish.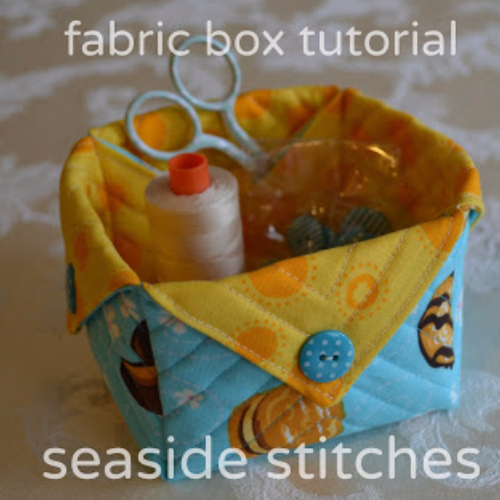 Fold, stitch, finish with buttons, and tack down inside flaps. Or use Connie Kresin's neat idea for an enclosed seam on the outside…..or on the inside. Leave off the buttons if you choose, or embellish any way you like. With just a few pieces of fabric, and lucky for us a super simple free tutorial, you're on the way to making some great gifts that offer all sorts of possibilities, from stashing with quilty accessories, to slipping in a mug with a ready mix hot chocolate sachet and marshmallows!
See Moonrise's fabric boxes at Quilting Board here, using Halloween fabric, scaring up a bit of fun for trick or treat, or even to keep candy on the table. Make three different sizes and stack away neatly till next year. Or make in fabric of your choice. Measurements for the stacking boxes are:
10″ = 2″ corners
12″ = 2-1/2″ corners
14″ = 3″ corners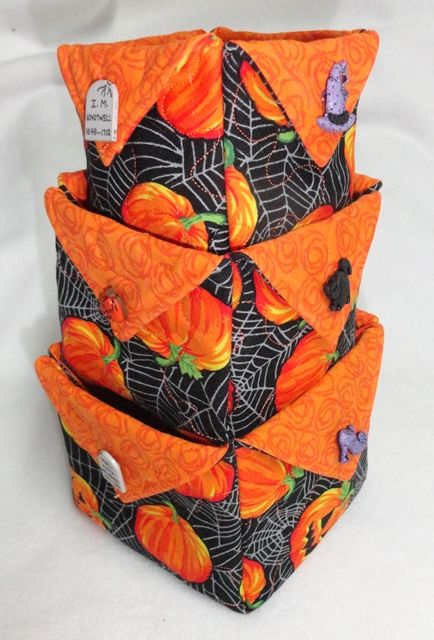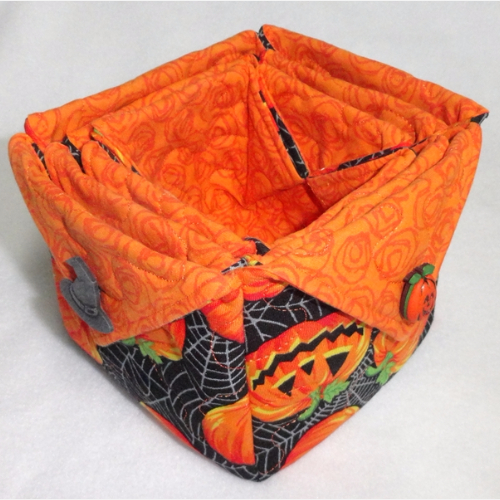 <!- google_ad_section_end ->