Fat Quarter Friendly Sturdy Fabric Basket Create Any Custom Size Basket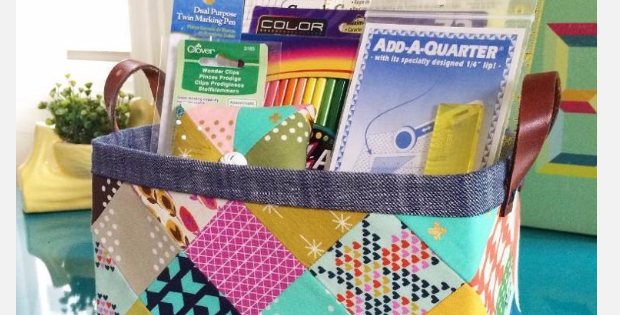 <!- google_ad_section_start -> |
Sturdy Fabric Baskets Store And Display Your Patterns, Fabric Or Accessories.
Fabric baskets are pretty in a sewing room and are most useful when they're sturdy in order to stand things up like patterns, fabric, packs of bias binding or any sewing accessory, making them so much easier to find. Besides it always nice to walk into a sewing room that looks interesting, and the quilty stuff is kind of on display. The baskets make the room look fun and busy, but without a message of chaos, leaving you inspired to start a project, or see a project through to the end. There's nothing to dampen your creativity like knowing you have what you need, but having to take the time out to find it. These sturdy baskets do the trick and might save a duplicate purchase of something when you had it there all along.
While the pattern's original size is fat quarter friendly, the updated pattern now includes how to create any size basket. Now that idea is superb since you can customize your basket to the sewing accessories and the exact items that you would like to use them for and put on display. Use these baskets as slide outs in your sewing room cupboard. I love it! Check for large fabric scraps. The biggest piece you'll need for the original size basket is 17″x 15″, and of course less for smaller ones. It's perfect for a little sewing room order and a great way to start your sewing room new year. I love the idea of having somewhere to keep my rulers.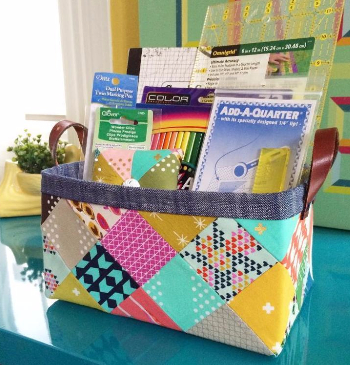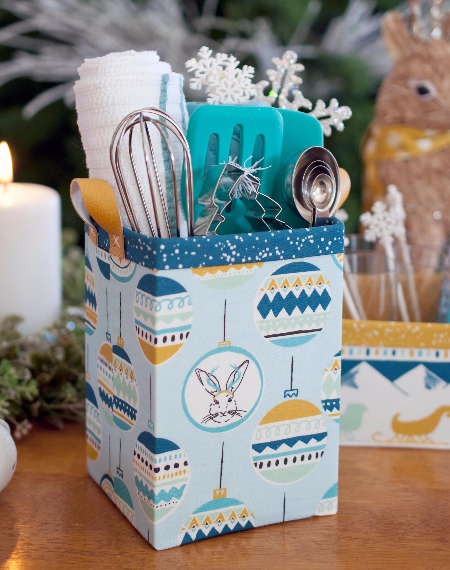 Leather handles were made from belts bought from a thrift store. Some nice soft leatherette or Pleather might be more appealing and easier to tuck down if fitting onto a cupboard shelf, or small space. The handles are optional.
This size is perfect for all of your bias bindings!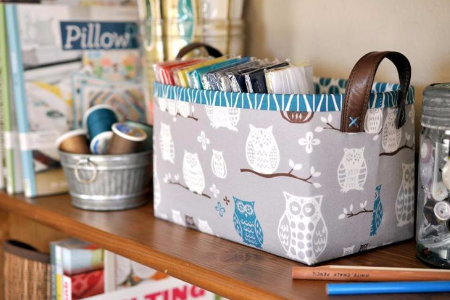 The finished size of the original basket is 8″ wide, 5″ high and 5″ deep, a nice size for folded fabric from where you can scroll though as you do with a book, magazine or pattern. Don't pack them too tight to make it easier to put something back without upsetting the whole basket. Leave a little space when packing patterns so as not to damage them when putting back. What a great idea! With a little planning, make the exact size fabric baskets that you'll be needing, and spruce up your sewing room. You can even choose your colors and make it pro like in the magazines.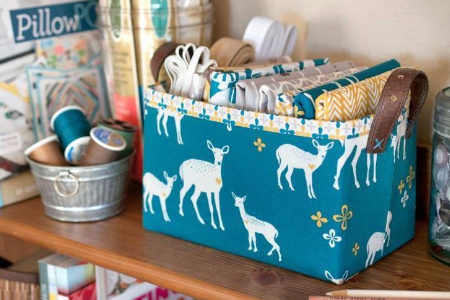 These sturdy baskets were designed by Lillyella Stitchery. The baskets can also be used for gift baskets and make lovely packs for new moms, or beauty baskets stacked with products, stationery gift baskets, or just as handy baskets around the home.
<!- google_ad_section_end ->