Fun No Point Stars Quilt From Crib To Five Sizes Up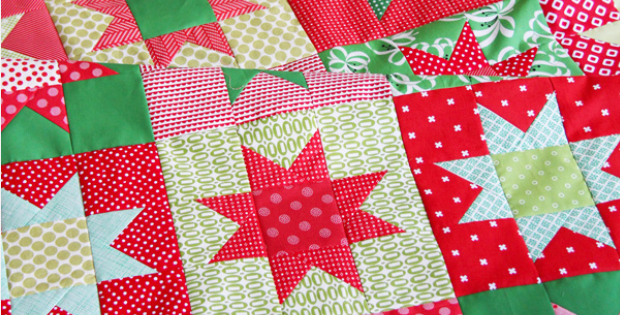 <!- google_ad_section_start -> |
Fun Fat Quarter Quilt For Any Season.
This fun star block is so easy and looks great in any fabric. An easy block to re-size or make smaller. This basic star block can be made in any fabric for any season or occasion, from crib size right up to five sizes bigger. There are no star points to match up, so no stress, only creative fun!
One of the easiest and most delightful Holiday quilts made up in red and green for Christmas. The star blocks look complicated but are very easy to put together, and also an easy quilt top to construct. The colorful blocks are pretty and no border is necessary, or stitch a border of your choice.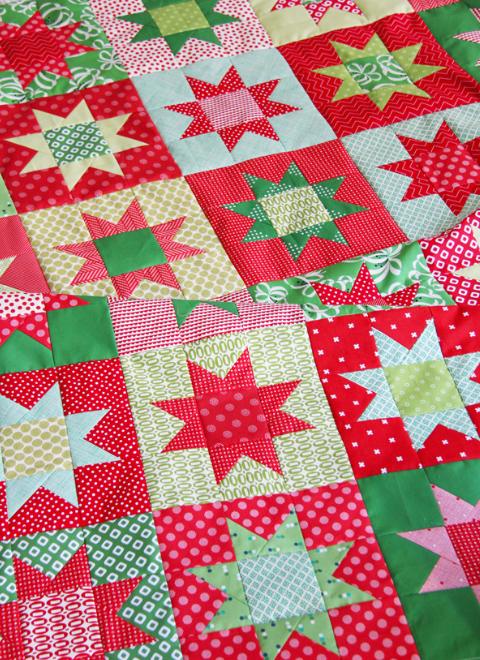 Blocks finish at 11″ , or 10 1/2″ after squaring if need be. Fabric scraps that will render 8 – 4″ background squares, 1 – 4″ center square, and 8 – 3″ squares for the star points, are enough to get started. The stars are perfect to display the prettiest prints.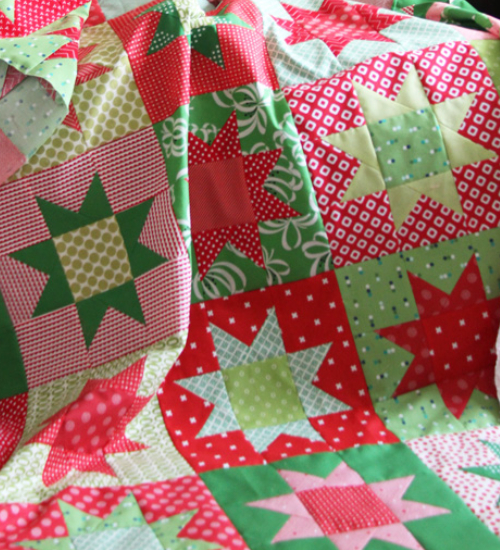 This is a great July quilt using patriotic colors. The stars are striking in red, white and blue! This quilt is amazing in a variety of colors or even scraps.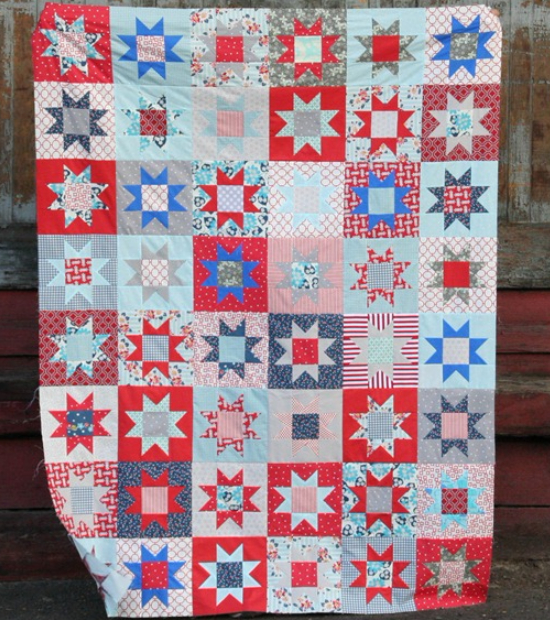 Use Mellissa's great little 'Tape' trick for quick stitching triangle corners quickly and accurately.
Instead of drawing a pencil line from corner to corner on the wrong side, and sewing along the line, place a piece of tape so that edge is in line with the needle of your machine. When you are sewing on your squares, start in one corner, and keep the opposite corner on that tape edge to keep the seam line straight. When your done you'll have a nice straight line from corner to corner, without having to draw gagillions of little pencil lines.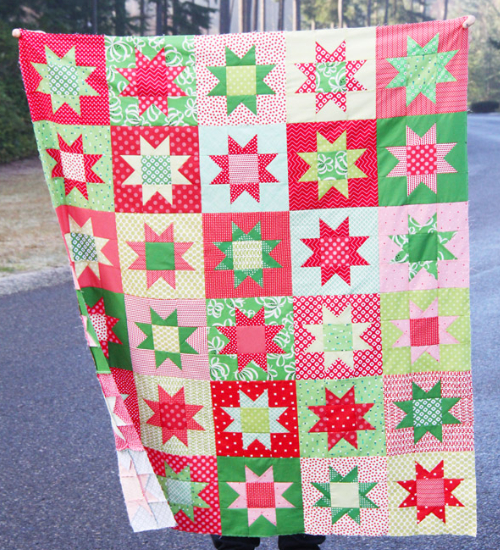 Mellissa of Cluck Cluck Sew has made a great success of her No Point Stars quilt, the stars are so versatile made in different colors and prints. To make a twin size quilt at 60″ x 80″, stitch up 48 blocks, 6 in each row of 8 rows.
<!- google_ad_section_end ->