Great Granny Squared One Hour Basket Perfect To Store Fat Quarters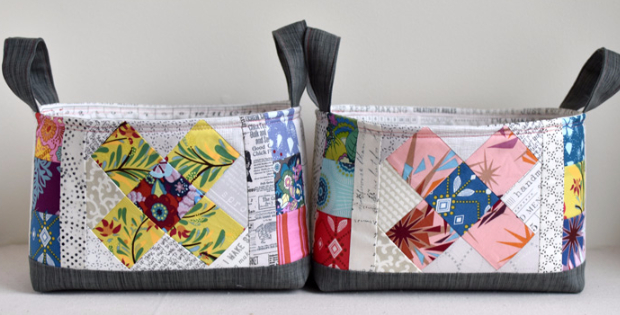 <!- google_ad_section_start -> |
Granny Squares Style Up Your Fabric Baskets.
There are some great baskets that you can make to tidy up your sewing room, but not many that fit fat quarters perfectly. This one hour basket is super easy and can be made in just an hour, leaving you with a little more time to add a granny square for extra style. An old traditional that has turned a lovely basket into stunning!
Put your own take on your one hour basket and stitch up this block taken from Lori Holts 'Great Granny Squared' book. More than just the granny square patterns, the book includes Lori's simplified instructions for making granny blocks in several sizes, which led to the idea of using one of the super simple blocks sized just right to fit this basket.
Jennie from Clover and Violet inspired by Lori Holts book, used the blocks from the bonus pattern. The blocks turned out stunning and look superb on the baskets. Use this easy One Hour Basket pattern and create a total turn around in the style by adding the blocks to the basket. Jennie explains how she added the granny squares:-
I put sashing on the sides of each block and then the colored squares, just like the book called for, and then added a 2 ½" low volume strip to each side of the colored squares. Then I put an 4 1/2″ panel of Moda Gray Crossweave on the bottom of each patchwork section to make my panels the same size as the One Hour Basket panels. Once my outer panels were the same size, I just followed the rest of the directions to make the basket.
Use 2 1/2 inch squares for the granny square, and add sashing and a panel. Then go ahead and make up your new One Hour Basket. If you love patchwork Lori's book has an array of Granny square patterns in her book. The value is in the 'how-to-adapt' the granny square block to get results like Jennie's stunning 'One Hour Basket'. Just right to start packing in your fat quarters, or for anything else in the sewing room and around the home.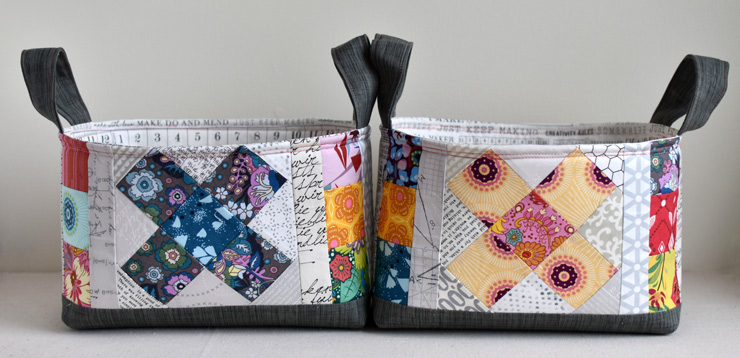 <!- google_ad_section_end ->