Make Your Own Jelly Roll Quilt Patterns For Girls And Boys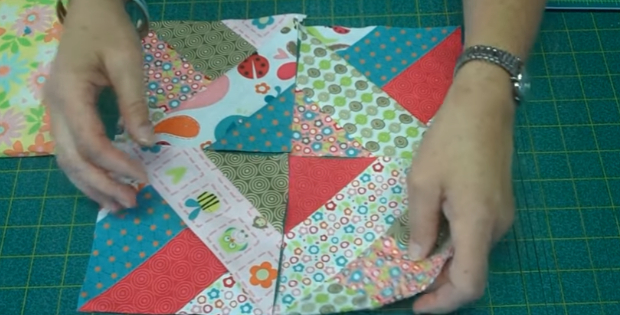 <!- google_ad_section_start -> |
Create Your Own Jelly Roll Pattern Sewing Alphabet Soup.
Use these cute Jelly Roll roll ups called 'Alphabet Soup'. One is for boys and one for girls. A simple four strip block using colorful jelly prints make up this adorable quilt. Turn the blocks any which way to create your own design.
Use prints from child print jelly rolls. The feature quilt was made using Riley Blakes Alphabet Soup, however any fun busy prints for kids would work.
To make up this quilt, choose your fabric and sew four 2 1/2″ strips together, then cut your block. The height of the block will be determined by the height of the four strips. So whatever that height is, that's how wide you'll be cutting in order to get a square.
Lay one block down, right side up, with your stitch line horizontal. Put another block on top with the pattern line vertical, then stitch all four sides. Then take a square ruler and cut the block into four triangles. When you open up the triangles you have a fun block with random prints.
When you put the four blocks together arrange them with the squares in the middle, or turn them and get another pattern happening. It's super easy and the baby quilt can be made using any prints for kids or babies. Riley Blakes Wonderland for girls just adorable, and Giraffes Crossing for boys. If you have a few jelly strips lying around, adding 2 1/2′ strips from yardage is easy enough!
Watch this quick video tutorial for the Alphabet Soup jelly roll baby quilts.

I like the versatile idea of Lori Holts "Modern Minis" jelly roll. The jelly consists of random mini prints amongst some others. Use strips towards kids prints in yardage, or add to existing jelly strips. The roll has a great mix.

<!- google_ad_section_end ->