Machine Quilt An Easy Pumpkin Patch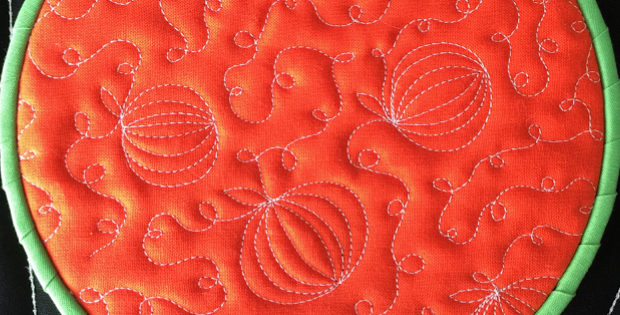 <!- google_ad_section_start -> |
A Little Quilting On Orange Makes A Quick And Cute Pumpkin Patch.
As the leaves turn to gold and orange, it's starting to feel like Fall, you might be looking for something quick and easy to add to your Autumn season quilting projects. With a little fun, free motion quilting, add a whimsical Pumpkin Patch quilting design!
Get out your open toe quilting foot and follow Leah Day's Quilting Pumpkin Patch. It really is the perfect quilting design for this seasons projects .You will love the pumpkin shapes connected together with a single loopy line. Leah suggests that you could also change thread colors and stitch along the loopy line again with green thread just to add a bit of extra texture and color to the design if you so choose. Quilt the pumpkins on existing projects or bind your fabric into a hoop for a new decoration.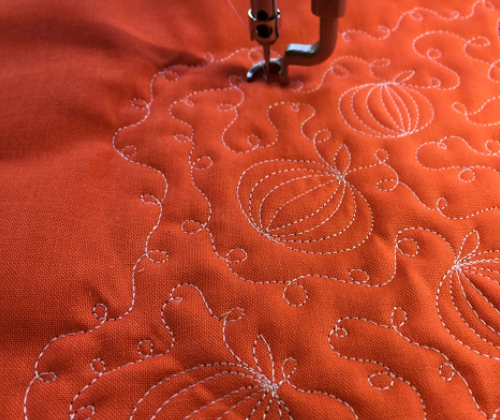 It's amazing how the sweet little pumpkins takes shape. Use your open toe quilting foot in order to see clearly what you're doing and form arching shapes inside the oval. Once the arches have filled the oval it becomes the most delightful quilted pumpkin. Stitch a leaf shape, then free motion a few loopy curls filling the background space.
Leah from Free Motion Quilting finds that when quilting detailed designs like this, that wearing Machingers quilting gloves help in getting a good grip on the quilt which is really important when free motion quilting. The lightweight rubber tips help grip the quilt in order to move it smoothly under the needle to create all the shapes for the design.
These pumpkins are super cute! Her easy instructions gets your enthusiasm to quilt a couple of pumpkins quilted right away when she says:-
The best thing about Pumpkin Patch is how easy and quick it will fill your quilts with texture. If you make the pumpkins bigger and add lots of Loopy Line between them, you will quickly fill your quilts to the brim with creative Autumn-themed texture.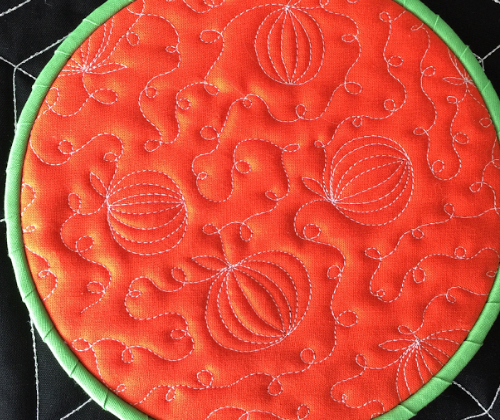 Watch her video that shows exactly how easy it is.
<!- google_ad_section_end ->