Mini Charm Cardinal Wall Quilt Will Charm All Who See It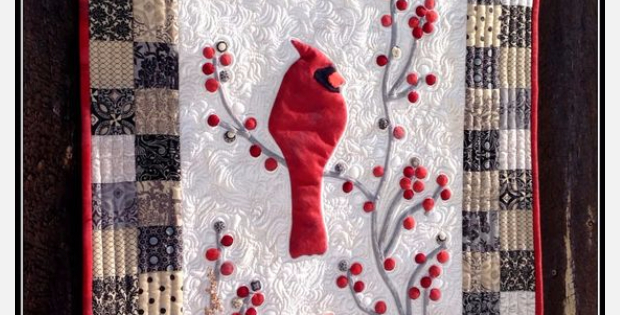 <!- google_ad_section_start -> |
Winter Greetings From This Sweet Cardinal Wall Quilt.
This Cardinal wall quilt will warm your heart. If Cardinals are your favorite bird, this beautiful wall hanging becomes a timeless piece. Small mini charms frame the quilt, and a white background free motion quilted for the perfect snow swirl. Perfect winter long wall quilt that will charm all who see it. The red bird is so peaceful, and has a quiet about it like the silence after a snowfall.  What a lovely gift that will be used for years to come.
The border only requires three or four mini charm packs. Almost any medium dark will be perfect to frame the snowy 'grunge' white background which truly features the Cardinal and all it's beauty. Perfect round red berries tie the scene together beautifully. Use "Perfect Circles" templates for the berries, or else some thin cardboard.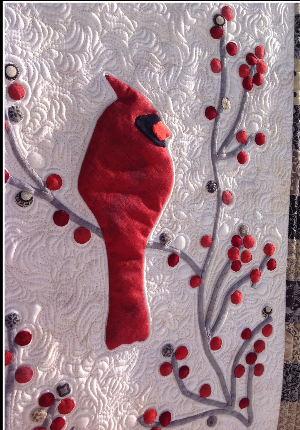 Karen Miller has a very good tip to edge the charms just with the out most tip of the pinking when using charms for piecing, as it improves accuracy when piecing.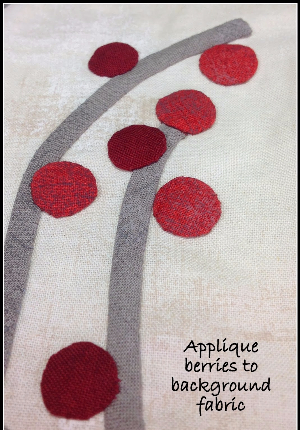 Once you've chosen your mini charms, lay them out and arrange and re-arrange until you love it, keeping the picture of the red bird in your mind, creating the setting for the feature center. The idea of using light and dark for the four corners is so supportive of the whole picture. A great idea. Once you have settled on the layout of the charms, Karen suggests taking a photo to refer back to as you're sewing to maintain the order of the layout decided on. If you don't have mini charms and want to cut 2 1/2 " squares for the project, a total of 88 squares is required for the border. And about 65 to 75 berries.  Use a quarter to trace the circle. "Perfect Circles" make the nicest berries.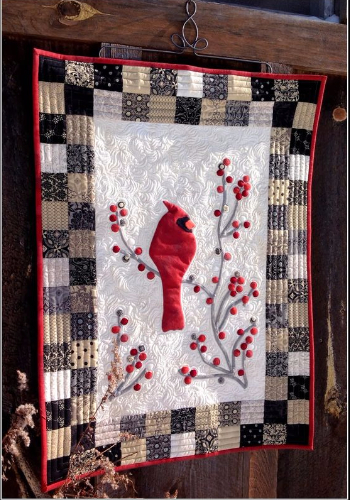 Designed by Karen Miller of Karens Quilts Crows Cardinals, Karen offers a lot of tips along with her tutorial of this Red Bird and Berries mini quilt.
<!- google_ad_section_end ->