New And Exciting Cathedral Window Rag Quilt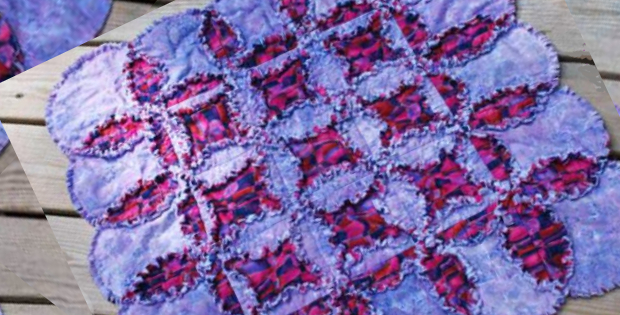 <!- google_ad_section_start -> |
 Make A Rag Quilt With A Cathedral Window For A Little Extra Raggy.
The nicest part of a rag quilt is the raggy. Making the rag with a Cathedral window provides an extra edge to fluff, and the window effect is awesome. Make it with contrasting colors like the one in the feature image and it turns out great. Perfect for beginners as it is that easy, anyone can make one.
What makes a raggy is that the seams are left open. Thends begin to fray and go fluffy making the quilt really snuggly. It looks nice too… warm and inviting, and even a little trendy.Besides being useful, the rag quilt can be made in colors to suit the decor as it looks really good thrown over the back of a sofa, or draped across the bed.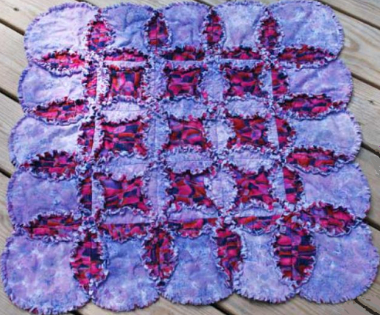 The Cathedral raggy is a new and exciting way to make a rag. The design really lends it self to using contrasting colors and prints. The 'window' showcases the fabric, and the edges are the frames. The edges are broader seam edges than a regular rag quilt seam leaving room for exaggerated fluffy edges. Just the way we like it!
For this quilt the circles cut measure 8 1/2 inches diameter and sew with 1/2″ seams. With a fabric width of 44″ you will get five circles across. This will result in a inished quilt size of 30″ x 30″. (5 circles across and 5 circles down). It's very easy to size up or down with your Catherdral Window rag. The circles would be just as nice cut at 10″ diameter. The quilt could still be five circles across which would simply make the finished size bigger. For a small rag quilt cut the circles at 3 1/2″ or 4″ diameter. The seams would be reduced to 1/4″ or 3/8″. Put together as many circles as need for your chosen size. The technique is still the same.
Rag before being put in the dryr to fluff…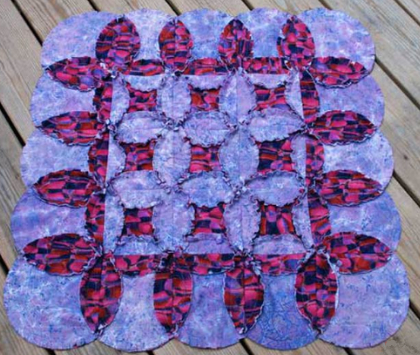 Download the is template, or use anything round such as a dinner plate. Check the diameter of the plate so that you know the size circle you're working with. There is another template available with a window. This template has markings for cutting and seam lines. The other benefit is that it enables fussy cutting a piece of fabric to use for the circle. That's one of the best parts because you can really create the Cathedral Window rag quilt with alot of personality. I really love the fact that the fabric 'peeps' through the raggy window.
Here are the templates:
The window template below is not download, but can be copied and used for this purpose. Take a look to get the idea.
I hope this gives a heads up for the Cathedral Window raggy. It's one of the nicest ideas for a rag quilt.
<!- google_ad_section_end ->