New Churn Dash Quilt For So Much More Than Just A Churn Dash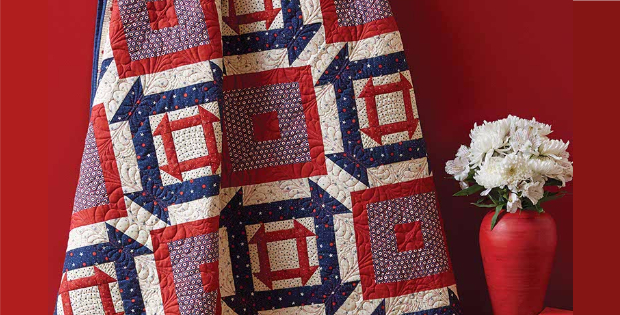 <!- google_ad_section_start -> |
A Churn Dash Within A Churn Dash Makes A Stunning Quilt of Valor.
When a quilt moves you as this one does, it's worth taking a closer look. The traditional and one of the most loved Churn Dash blocks now has a new meaning. Cleverly designed as a churn dash within a churn dash creating an eye catching result that will draw heaps of attention for sure. The new block has a strong look creating a patriotic quilt that be can be given to the Quilt of Valor® charity shop. A warm gesture in aid of our troops.
Sharon Riley's design has introduced a new take on the churn dash. With the quilt on the pattern image, patriotic fabrics has rendered a stunner!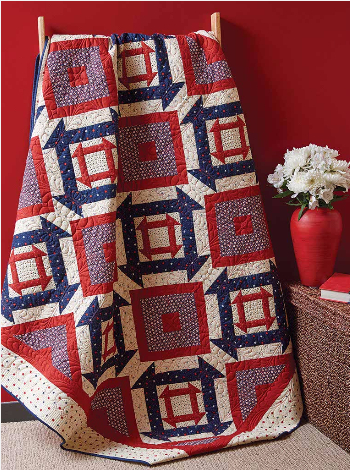 Adding a twist of modern, the new block is a churn dash within a churn dash! At this point all sorts of creative ideas come to life. The block is so appealing, it looks very time consuming, but with the instructions, plus some video tips on triangle squares, you'll be piecing theses blocks in no time. Each churn dash block is a whopping 18 1/2″. The quilt finishes at 69 ½" x 88″. Follow the fabric guide for a superb patriotic feel.
Choose your own colors for a quilt at home. The design can be used for all year round. Three blocks with only one churn dash block in the middle would make a striking table runner. Fabric colors of your choice, or go patriotic. Or double up the rows and make a bed runner. Choose fabrics to match your bedroom decor. A bed runner will take half the time and makes an attractive addition to your bed linen. Bed runners always add that little extra warmth too.
Bed runner idea photo shopped from the pattern layout. It's not perfect, but just to play around with how it would look.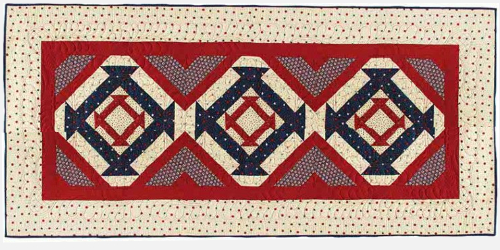 The finished size of 69 ½" x 88″ requires 12 churn dash blocks.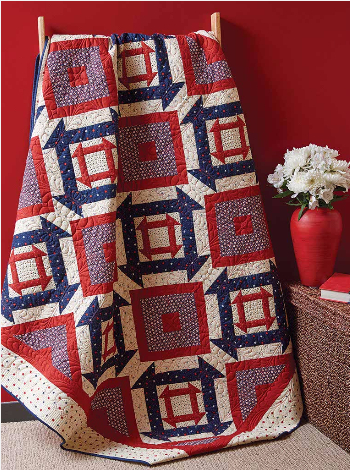 More ideas of a beautiful churn dash in red and white.
<!- google_ad_section_end ->