One Charm Square Pack Valentine Heart Wall Hanging
<!- google_ad_section_start -> |
Make This Easy Valentine Heart Wall Hanging With Charm Squares Cut Into Quarters.
If you have unused charm squares laying around follow this idea to cut the charm squares into four quarters, giving you four 2 1/2″ squares to make this pretty heart wall hanging. If using for a Valentines theme, find charm squares with a mix of red prints. Play around with the colors with the idea that the charm square is going to be cut up into four smaller pieces. What I mean is that if you have a print in a charm square, sometimes one side of the print might be darker or have more texture.When the 5″ square (charm square) is cut into four, there is more opportunity to swap those four pieces around and get better texture or color blend.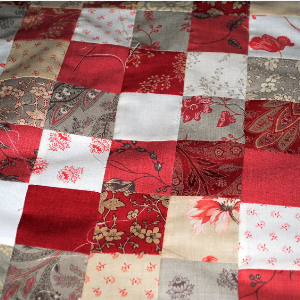 That's exactly what Hide Away Girl did when she found a long lost Rouenneries charm square pack and decided to make a heart wall hanging. After sketching the heart design, she got this idea to cut this hide away charm square pack into four quarters and use the 2 1/2″ squares to make the shape of the heart.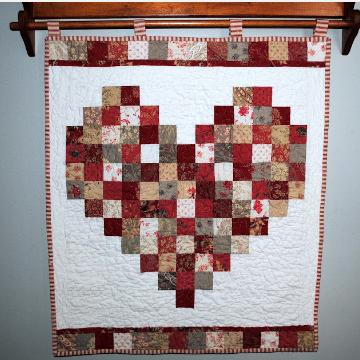 Then following the pencil sketch design she calculated the length of the white fabric strips to add on to the edge of the heart to make up the background. Add a white border, then a strip of colorful print and a full row of 2 1/2″ squares at the top and bottom of the quilt.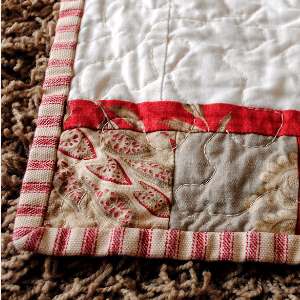 All that is left to do is bind. In this heart wall quilt she found some red and white striped decorator weight ticking. It worked out great. This entire project can easily be made from red print and solids fabric scraps, or a lrage piece of fabric cut into 2 1/2″ squares. Or if you're lucky there might be a hide away charm pack somewhere just right for the project.
For the heart you'll be needing 99 x 2 1/2″ squares, and for the top and bottom borders a total of 28 x 2 1/2″ squares, making that a total of 127 x 2 1/2″ squares, which is about 32 charm squares. A strip of fabric for the top and bottom border squares about 30 inches in length and choose the width for each strip and white fabric for the background.
The finished size is 28.5 x 33. A very cute heart wall hanging to make for your Valentine decor!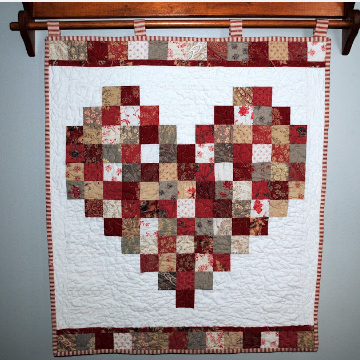 Hide Away Girl has a sketch that kind of gives the pattern for the layout.
<!- google_ad_section_end ->