Quick Railfence Quilt With Just One Jelly Roll And Quilt As You Go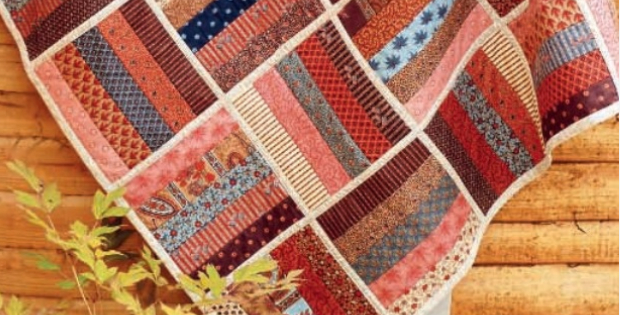 <!- google_ad_section_start -> |
Choose Your Favorite Jelly Roll Or Use Left Over Jelly Strips.
This super easy railfence is really quick using jelly roll strips and a neat quilt as you go. The quilt is reversible with a myriad of choices for accent colors and backing fabric. You can make it any size you like by just adding more ten inch blocks. Choose your favorite jelly roll and make yourself a new quilt.
The warm colors of this rail fence are just right for Autumn, however with the mix of colors throughout the quilt, it could be used right through the year. Jelly rolls are great because the colors are always beautifully coordinated. You may have some left over jelly strips in a contrasting color to add to the block in order to get a similar effect as this quilt. This style of quilt would suit almost anyone, and would be great in any color.
The quilt is reversible, and you can choose which side you would like as the front. Using the quilt as you go method, each ten inch block is constructed separately and then sewn together with a strip between the blocks. The squares are joined with strips creating the effect of sashing between the blocks, and all sorts of accent colors can be introduced. If you love a textured backing, use a mix of coordinated colors for each square at the back, and a contrasting or tonal color for the 'sashing', creating it's own pattern. Use a mix of coordinated solids for the backing, adding a random railfence block or two as one of the backing squares to create a sort of peek-a-boo effect.
The design is so versatile, and designer Fiona Law has provided tips on getting different finishing effects with binding. One jelly roll will render a quilt approximately 130 x 158cm, based on a ten inch block.
<!- google_ad_section_end ->