Rag Quilt Shabby Chic, Cottage Roses and Hearts Quilting Affair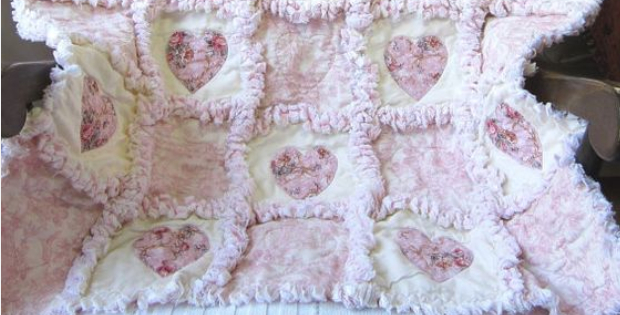 <!- google_ad_section_start -> |
Rag Quilt Shabby Chic Cottage Roses And Hearts
Rag quilts are the rave today. They're very easy to make. Rag quilts are often suggested to new quilters because the raggy is less fussy than structured quilt blocks. Add cottage roses and hearts for romantic decor just right for Valentines. Perfect for a baby quilt too. Beautiful in shabby chic decor, this cottage rose and hearts rag is a powder soft quilting affair.
The quilt theme is romantic country rose. Dreamy, snuggly, chic, all rolled into this beautiful quilt, with the choice of 10″ or 5″ block. If choosing 10″ blocks, cut the square 11 inches to allow for a 1″ exposed seam to rag and fluff. Exposing a one inch seam will make the rag extra fluffy. Use a dryer ball to help rag / fluff the edges.
There is a pattern is available for purchase, but with a little quilting experience, you might get a way with following the rag quilt tutorial provided below. The tutorial provides pattern instructions using doggie fabric. Choose rose prints instead. Use a template to make the heart and applique onto white squares. Then stitch the raggy as usual.
Use embroidery for a broken heart… very shabby.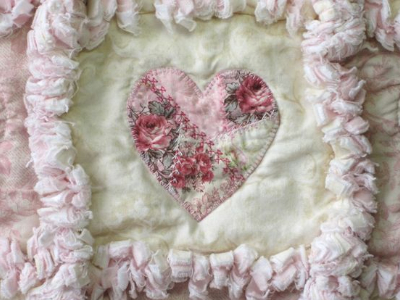 Cottage rose fabric in the mix.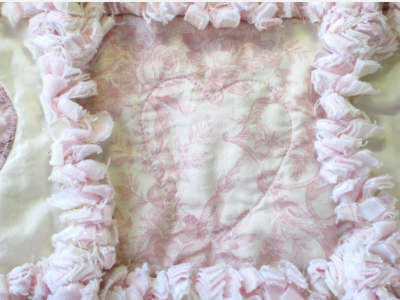 Just beautiful.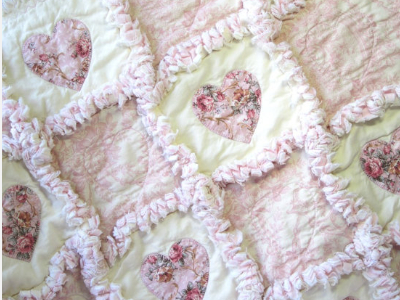 The free tutorial to make a rag quilt is very easy to follow. While the raggy in the free tutorial is made with doggie fabric (which is too cute!), simply use cottage rose and white fabric as shown, and appliqued hearts.
The Cottage Rose and Hearts Raggy Quilt is available for purchase.
<!- google_ad_section_end ->