Striking New Log Cabin Potholders To Make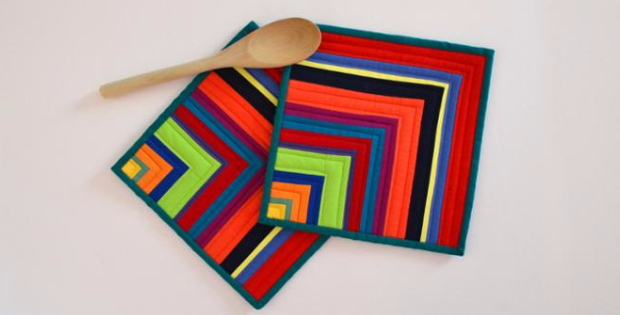 <!- google_ad_section_start -> |
Super Easy Log Cabin Potholders Perfect For Scraps.
Log cabin blocks offer all sorts of designs. Simply use different widths to create an edgy design. Bright colorful fabrics make an interesting and striking design. These log cabins potholders are mixed colors. They would even look amazing with just two colors, contrating or monotone. A delightful gift for Food lovers who like a lot of color in their kitchen. Make a set of two or even four. From kitchen table to the porch or dining table. Bright and fresh, these potholders would be perfect for a holiday or beach cabin.
You'll need 14 assorted scrappy strips of 3/4″ wide x 9″ long, for the logs, 10 1/2″ square fabric for the backing and 10 1/2″ batting, plus 40″ binding strips. Each potholder finishes at 9″ x 9″. The pattern goes on to show placement. It's so easy and look at the result! The potholders in the image were tied together using bright lime green in the same log, fifth log from the center. Although all of the logs are matching for both potholders, the clever use of an anchor color such as the lime green has created a very appealing edge to these potholders.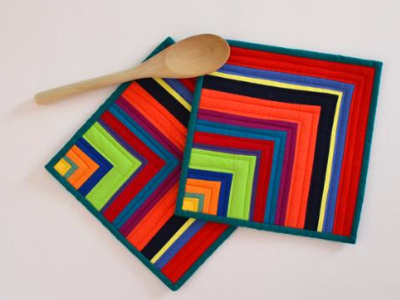 Or forget the structure and just go scrappy logs! They're bright and modern, with a happy ambience.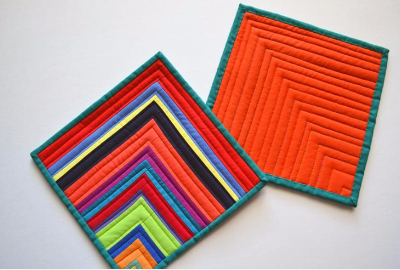 Once color placement is decided, follow the pattern instruction for sewing each strip. The logs come together quickly, exciting as you see the design emerge. I loved the 'coloring sheet' provided with pattern.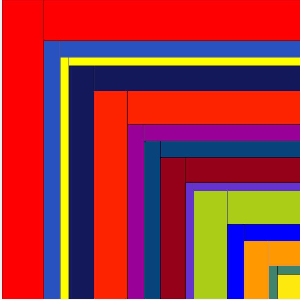 Then layer and quilt. The potholder is cleverly quilted, quilting two straight lines for the broad logs, and only one line on the narrow strips. The quilting creates a whole new feel. Then bind with a contrasting color to balance the whole project. Wow, it's really edgy and with a wide array of color, will match almost any kitchen decor.
Aren't they gorgous! Who wouldn't love a set of these as a gift, and they're so useful. Designer Jayne Willis for Twiggy and Opal has!
<!- google_ad_section_end ->