Summer Star Mini Quilt To Display On A Hanger And Decorative Throw Pillows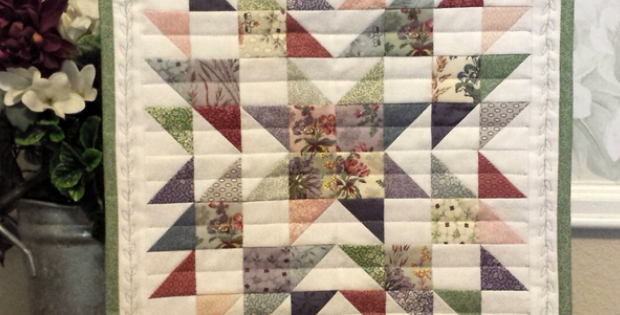 <!- google_ad_section_start -> |
Make a Summer Star For So Many Decor Accessories.
A half square triangle is one of the most favorited block because it is so versatile. Easy for beginners and experienced quilters, this summer star is so pretty for almost any theme. Use the design for mini quilts to display on a stand to fill a dreary corner. Freshen up your sofa with two decorative pillows. Make a stunning table mat to top with a vase of summer flowers. Add a touch of Summer Star to your decor and bring brightness into your home.
A mini charm friendly design, and just as easy using fabric scraps cut into 2 /12″ squares. Small half square triangles are easy to sew and it's fun to see the design happen so quickly. Take out a heapof scraps and start putting colors together to get a nice flow. A splash of florals are always nice on the dining table.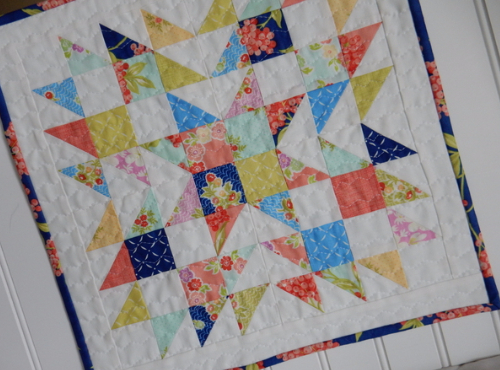 Use newsprint fabric and mix with plaids in red and blue. Find a few man friendly scraps like vintage cars, and even using plaid prints from mens shirts look great. This mini would great on a home office desk. Put under a small leafy pot plant and a clock to give the office an update.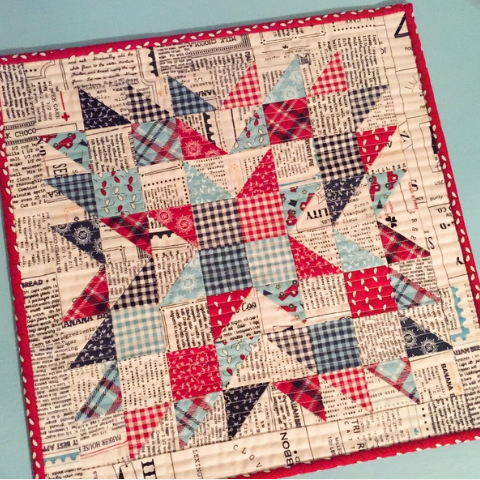 Display the Summer Star on an Ackfield 'scroll' stand to brighten up a corner or fill out an awkward space. Create a friendly welcome at your entrance. It's stands about 12″ high and looks so fresh backed with a shaby tin of flowers and a small bird.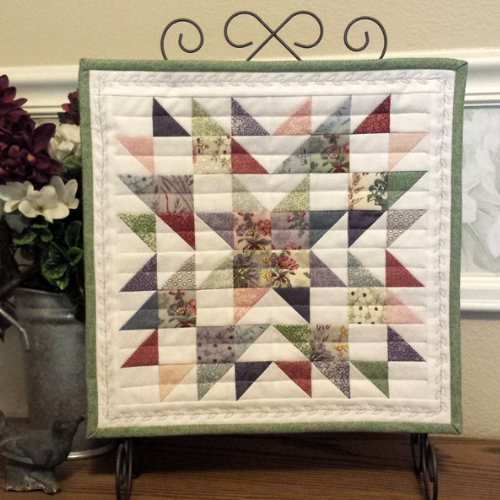 These stars make striking decorative pillows to scatter on the sofa changing the entire decor of the lounge! It's amazing to think that a few 2 1/2″ fabric scraps can give your decor a mini makeover. Monotone colors are easy to gather from scraps and provide quick matches to decor colors.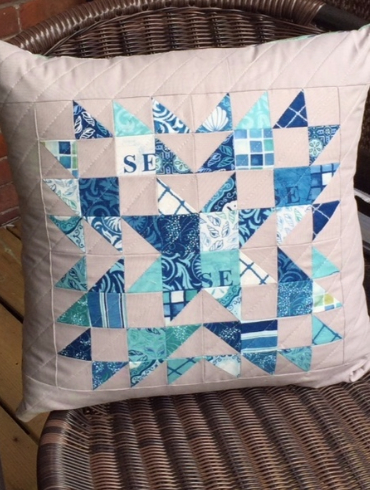 The mini Summer Star can easily be sized up using charm squares.
<!- google_ad_section_end ->