Tis The Autumn Season For Warm and Cosy Quilt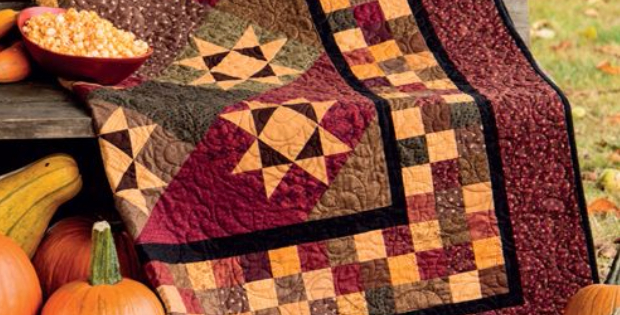 <!- google_ad_section_start -> |
Choose Deep Autumn Colors And Use This Quilt All Winter Long.
It's the perfect time to decorate your home for the autumn season. When it comes to making a scrap quilt it seems you can break every rule about color choice and placement. Being careful and selective in choosing will result in a quilt that is totally irresistible making you wish for Autumn and look forward to frosty winters.
Enjoy warming your home with the seasonal beauty of autumn. Talented designers Jeanne Large and Shelley Wicks suggest laying some fabrics out on the table to get an overall feel for the finished quilt. The quilt could easily be adapted for anytime of the year but for now it's a lush autumn quilt to bring rich hues and tones into your home decor. When choosing Autumn colors add an unexpected 'wintry' for a new layer of depth. No need to bring out a winter quilt as the season changes.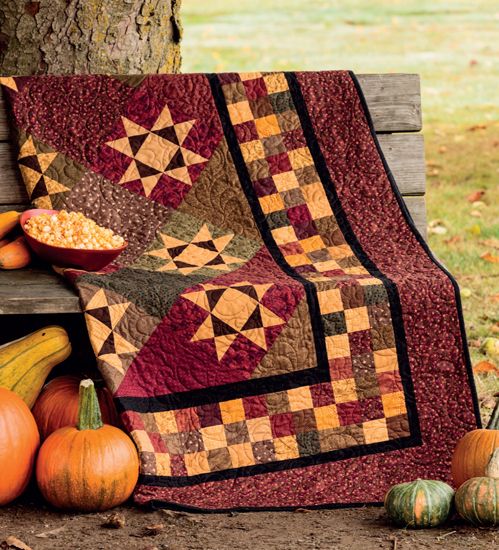 We love the colors and easy ways to change a simple quilt into the unusual, along with dappled nine patch blocks for the inner border. Spotty fabric in light and dark create a the feeling of the first winter flurry. The earthier, warmer looks really complement the autumn season.
The pattern for this quilt is called Jo's Jammies from Jeanne Large and Shelley Wicks 'Tis The Season' book. The book contains 12 colorful quilts and coordinates for autumn. Both designers display quilts throughout their own homes, so they've also included a section with photos, tips, and suggestions for decorating with quilts.
<!- google_ad_section_end ->