Use Up The Bin Of Cotton Scraps And Make This Pinwheels In The Park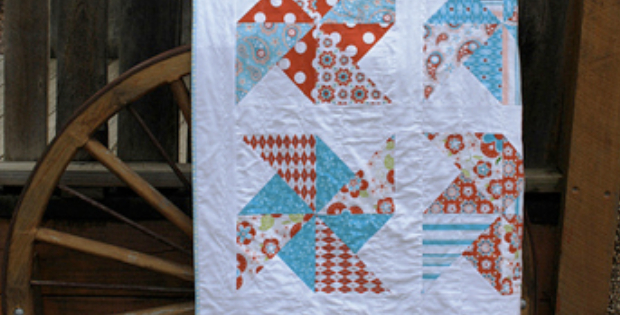 <!- google_ad_section_start -> |
Pinwheels On A Square Become Pinwheels In The Park
There are heaps of different ways to do pinwheel blocks and they're all as beautiful as the next. Pinwheels generate a bright happy look about them . I often see pinwheels in bright oranges, reds and lime greens with polka dots and pinstripes. Pinwheels are almost always a great success. The quilt pattern 'Pinwheels In The Park' has a distinct difference though.
The pinwheel looks as though they're mounted on a square. It almost creates an illusion of being 3D in as much as though it appears it is sitting on this square, and is about to start spinning the moment a breeze swirls by. With polka dots, florals and pinstripes to add, it truly feels like Pinwheels in The Park!
With the pretty aqua's, and reds there could be no better than a beautiful white background for the freshest pinwheel quilt.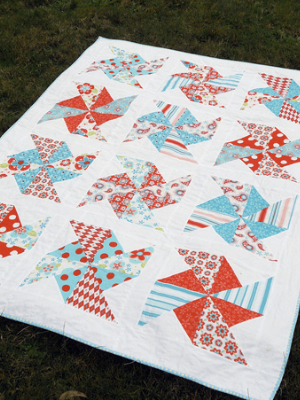 Look at these different pinwheel blocks to get the idea. This is a regular pinwheel blick with half square triangles. Pretty none the less.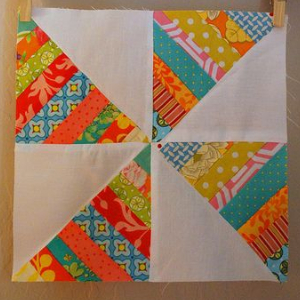 Here's Pinwheel In The Park Pinwheel block. The illusion of the square behind the pinwheel is great giving the block dimension.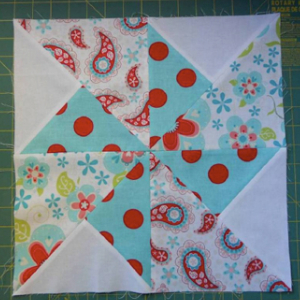 (I put this picture up so you could see how they are kind of put together).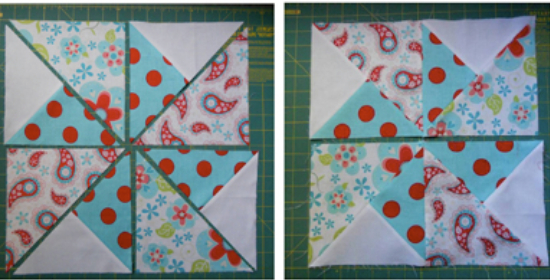 Fabric needed for this quilt project to get you started:
At least 6 fat quarters of medium dark fabric – pinwheels
At least 6 fat quarters of medium light fabric – pinwheels
2 m of white fabric – pinwheels and sashing
20 cm of spot fabric – binding
Piece of backing fabric 2 m x 1.6 m (I used a good quality single bed flat sheet)
Batting at least 2 m x 1.6 m
Finished size 71" x 54 ½"
All seams are a quarter of an inch.
Any color combination would be great for this pinwheel quilt.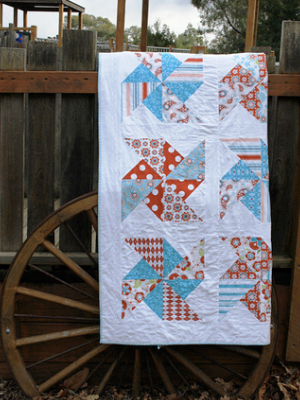 There's a great free tutorial to make this quilt. It is an easy step by step follow along.
The pattern tutorial is available as a download
Or else click through to the pattern tutorial.

<!- google_ad_section_end ->