A Charming Vintage Hankie Butterfly Quilt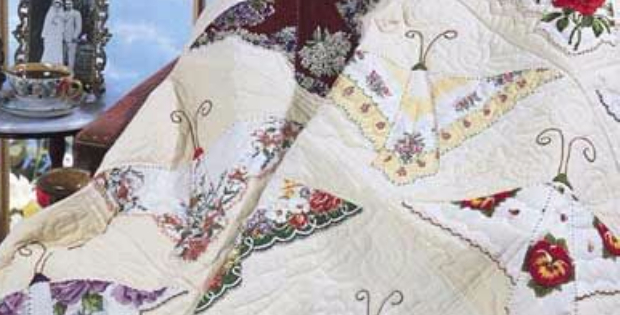 <!- google_ad_section_start -> |
Vintage Hankies For A Butterfly Quilt To Be Treasured.
If you love butterflies and feel like making something extra special use old or vintage hankies. Vintage style quilts always seem to fit in with most homely country type of decor, and a butterfly quilt made with hankies would fit right in. It is surprisingly easy to achieve. Hankies are placed like butterflies on a white background and feelers are stitchd in black.
You may have a box full put away which has been moved from place to place. Hankies create stunning quilts, and if the they belonged to someone special, the quilt will be treasured by loved ones. Quilts made from hankies can be made for any age.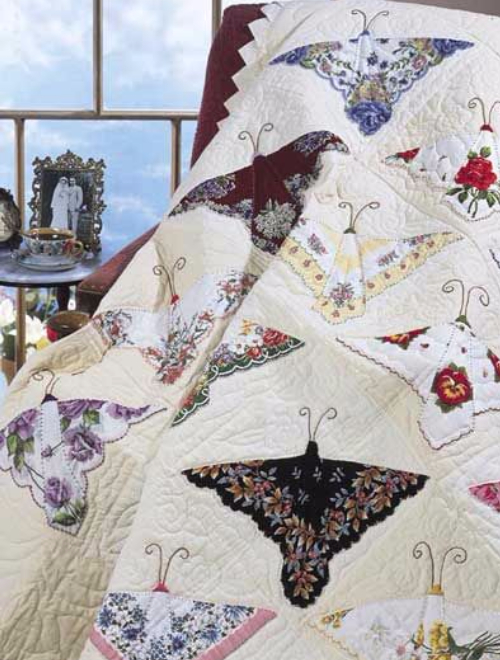 Unlike a hankie that is folded into a butterfly, use the butterflies wings to display a full spread of the pretty hankies. Keep in their original shape where some are scalloped and others have colorful borders. Use ones with lace or add lace to make it the same size as the others. Each hankie can be totally different creating a span of individual butterflies capturing beautiful vintage patterns and colors.
The blocks are quite large for a full display of a the butterfly. Add decorative trims or edge with lace for extra charm. Hankies show up best against a white or neutral background. Then use about a quarter of a hankie to make a quilt label stitched to the back to make it a keepsake that will stay in the family for years.
If you don't have a collection of hankies they're often found in thrift stores so start collecting. You may have just two or three that you have kept and treasured over time but not enough to make a quilt. Use those special ones and purchase enough to complete the quilt. When put in quilt blocks with sashing there's no need to cut them up. They make beautiful butterfly blocks. Vintage hankies available here.
<!- google_ad_section_end ->