How To Construct A Bargello Quilt – Creative Fabric Play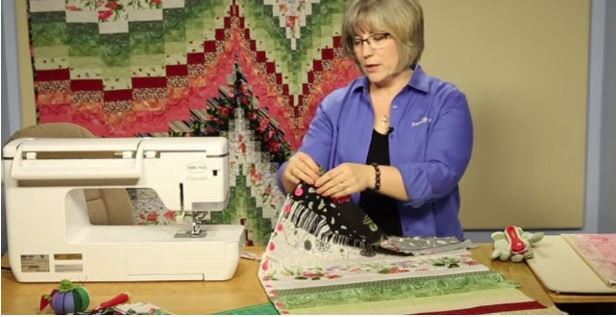 <!- google_ad_section_start -> |
Bargello Quilt Pattern: Waves, Curves and Color
The Bargello quilt pattern can be achieved by using 2 1/2″ strips. The following step by step pattern is an easy to follow Bargello quilt pattern. Once you've decided on your fabrics, stitch all 20 fabrics into one strip set. Number the sequence of your fabric pattern so that you have some of plan of action when sewing the strip sets together.  Once you've completed your sewing tubes and cut a new set of strips, set up the strips according to the pattern, lay the strips out to start the Bargello pattern. Waves and color movement come together quickly.
The Bargello quilt pattern might appear difficult, but is fun and easy to construct. A Design Wall is the perfect sewing room accessory to make a Bargello.
Four strips sets are stitched using 20 x 2 1/2″strips, and sewn into tubes. Trim selvage edges. Next, cut various widths of strips cut from the tubed strip sets. Then one set of stitching is removed. A Bargello quilt pattern provides the step by step, or using this technique, easily create your own lay out.Once stitching has been removed, the tubed strip is back to a strip again. You now have strips of fabric that have different pattern endings.  Place the strips up on the Design Wall for easy assembly. Step back and see how the Bargello pattern starts to come together. Strip one (on the right) up on the design wall…
Next, put up strip 2…

Strip 3…

Strip 4…


The bargello pattern starting to come together. The end of the strips have different pattern endings. Follow a Bragello quilt patter, or plan this out yourself.

Watch this amazing Bargello quilt pattern video tutorial.
Take a look at the Design Wall Here
<!- google_ad_section_end ->