Straight Sewing With Unmarked Lines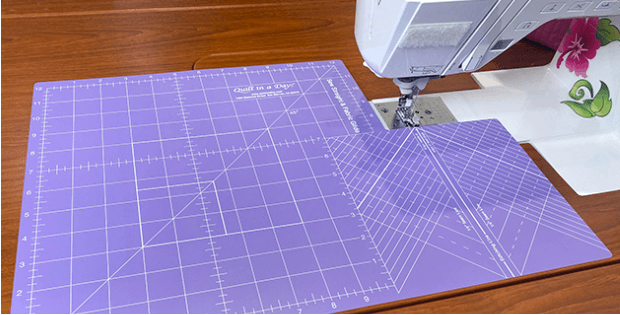 <!- google_ad_section_start -> |
Fast Sewing For HST's or Any Quilt Block
It's worth taking the time to pre-mark quilt blocks to sew perfect Half square triangles. However there are countless ways to use a Sew Straight ruler. A flexible plastic template that fits right on top of the bed of the sewing machine, and eliminates the need to mark your fabric.
Sew unmarked diagonal lines as Snowball or Triangle Squares. Accurately sew bias seams for Binding. Additionally, there are lines either side of the ruler guide that provide sewing a perfect quarter inch seam.
There are 2 sizes available. The large mat is suitable for a drop in sewing machine where the machine bed is level with the table. Available for purchase here.
When using a domestic home sewing machine that is not at table level, a smaller template is available here. It comes with removable adhesive patches that won't damage your machine. Position the Sew Straight ruler as shown in the video below. There is no need to mark squares intended for Hst's. Sew along the guide line, then stitch the quarter inch seam either side.
Laura from Sew Very Easy provides a great tutorial on how to use the Sew Straight ruler guide.
<!- google_ad_section_end ->