Make A Dream Hexagon Quilt Fun With Fabric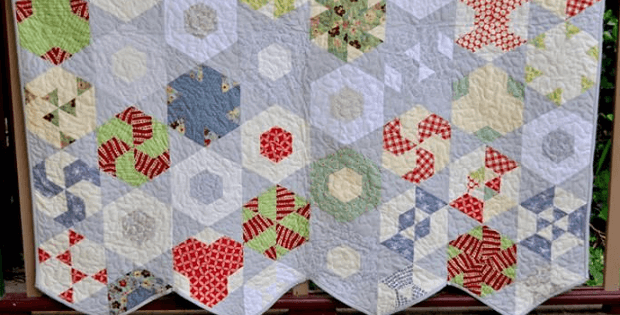 <!- google_ad_section_start -> |
Create 10 Different Hexagon Blocks With Jelly Strips
A mix and match of hexagons make up this fun Hexagonal Dream quilt! Combinations of just two strips per block create a tumble of hexagons put together anyway you choose. Pinwheels or pin swirls, it's totally fun with fabric, the design is super easy without Y-seams.
The inspirational blocks are super fun to make, stitch just 2 x 2 1/2″ strips of fabric together, and cutting 6 triangles using the 60* template provided, or use your own. Then flip, turn, spiral to construct the block to create a hexagon. Finished 7 ¼" x 8 ½" hexagons come to life with colorful contrasting fabric to show off the shapes and spirals that make up the hexagon.
This quilt uses traditional piecing, and no Y-seams! 48 hexagon blocks with 11 different block types and 8 half hexagon blocks will render a quilt size 60" x 59 ½". Designer, Teresa, from Teresa Down Under shows how to make these super fun hexagons in a flash. Make a quilt any size based on the number of hexagons. Put fabric on display with a mini wall quilt, or a stunning table topper.
A pattern to make the quilt, which includes a 60 degree ruler template, as well as links to instructional video, is available for purchase.
<!- google_ad_section_end ->