Schnibbles Tuffets Make The Nicest Gifts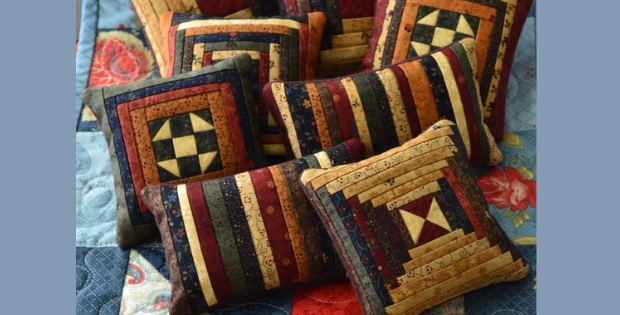 <!- google_ad_section_start -> |
Change Up Your Schnibbles Tuffets Pin Cushions For The Season Too.
Besides The Schnibbles Tuffets pin cushions being the sweetest, once you have the basic pattern, change it up for any season. Follow this tutorial to make Tuffets pin cushions nice and 'boxy' with pumpkins and fall fabric. A nice colorful additiong to your Fall projects.  They look so cute altogether and the set of Schnibbles is great for gifts… and this is how it all happened…
To make these box shape Tuffets pumpkins you will need the Scnibbles Tuffets pattern. This is one of the most versatile pin cushion patterns around. Make log cabins, churn dash and courthouse steps pin cushions. Then change up to any other fabric for any season at all. With small adjustments and additions the pin cushions are truly one of a kind to be treasured. It's amazing how these pin cushions change when a different fabric is is used.
Great for gifts. Michelles Quilts and Stuff made two sets of Scnibbles "Tuffets" pin cushions and gave one for each retreater. Honestly, they are adorable altogether in a basket. You can't resist reaching out to pick one up to hold in your hand! She followed the pattern to the tee and used similar fabrics. Set one…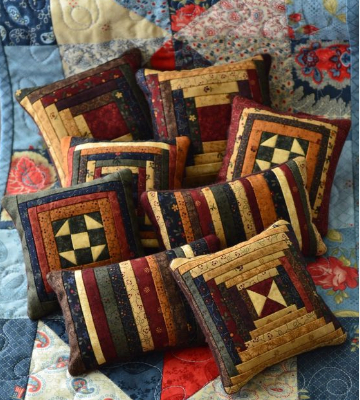 Set two…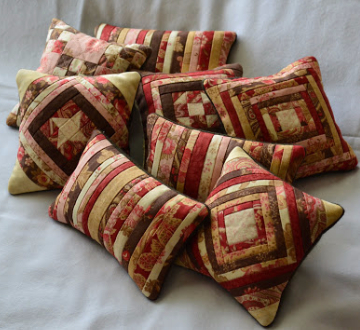 To make the boxed pumpkin pin cushion, choose the pumpkin, Fall and/or Halloween fabrics you're going to be using to make the Scnibbles pin cushion. Follow the excellent pattern instructions until you have the top made and sewn, right sides together, to the bottom, leaving a two inch opening. From this point on make the adjustments to accomodate the 'boxing' depending on how deep you want the pin cushion to be.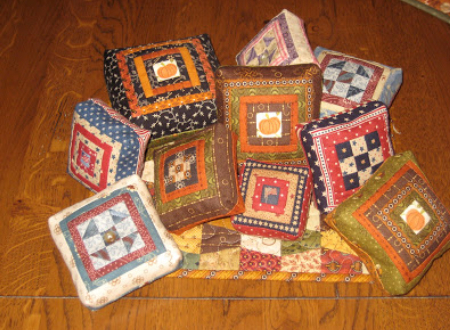 Rogue Quilter has the perfect tutorial for the 'boxed' Schnibbles pumpkin pin cushions.
The second set of Pin cushions also adapted from Schnibbles Tuffets is Poor Lil' Punky. Rogue Quilter made adjustments to 'box' the pin cushion, providing a great front for Poor Lil' Punky!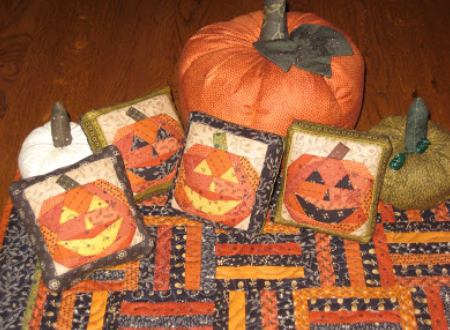 Me and My Stitches went on to making Poor Lil' Punky, using Schnibbles Tuffets and introduced a pumpkin to the Jack-o Lantern… His Plain Lil' Cousin!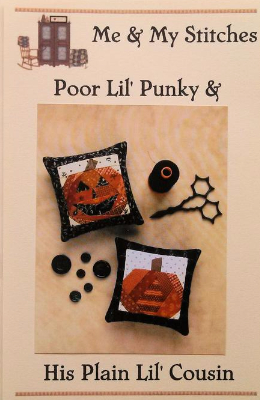 Poor Lil' Punky was originally published in Simple Quilts and Sewing Magazine Winter 2012.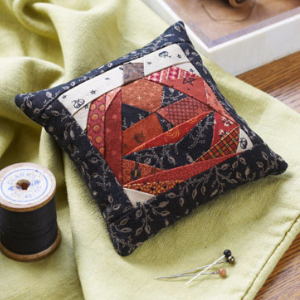 First of all you will need the Schnibbles "Tuffets" pattern as a basic to make these darndest pumpkin pin cushions.
Then get the free tutorial.

Then get the free template for Poor Lil' Punky.

<!- google_ad_section_end ->