Beautifully Butterfly Log Cabin In Paisley Blue and White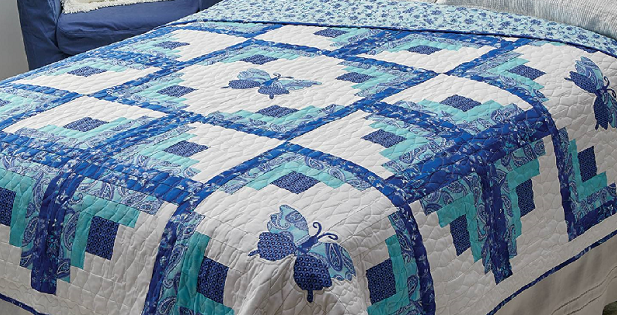 <!- google_ad_section_start -> |
Log Cabin Blocks To Showcase A Butterfly or Your Favorite Applique
Make this stunning log cabin quilt by simply turning the blocks and adding an applique! Display butterflies in blue paisley prints, in a traditional block used in beautiful settings. The blocks frame the machine applique' butterflies set against crisp white for country garden fresh.
We love the blues and teals used for this delicate design. Choose variations of blues, and solid white to complete 12 inch log cabin blocks, ready to sew four blocks into a square. By simply rotating the blocks the square becomes the perfect frame for the butterfly. In the feature quilt blue is the heart of the block, so when turned, forms an anchor.
The pattern which contains fabric guidelines suggests using dark blue small prints for the bottom wing, and Turquoise or brighter blue for the top of the wing to luminate and bring the butterfly to life. Paisley prints suggest butterfly wings! Which you can find here (while it's still available), and more of the fabric collection here.
The easy follow instructions to applique the butterfly explains exactly how to stitch inner corners where the wings meet, then finish edges with your favorite applique. Choose any applique in place of the butterfly, perhaps a bird if you choose.
The pattern designed by Denise from Pieced Brain, measures 76″ square which works for a double bed, lap quilt. Make a mini quilt using just four blocks and feature the butterfly, to hang on the wall or as a table topper! The pattern can be found in the pattern book, 'Log Cabin Variations, together with a handpicked collection of a of 9 log cabin quilt projects, each presenting different variations of this beautiful traditional block.
<!- google_ad_section_end ->