Piece Your Own Back Porch Blooms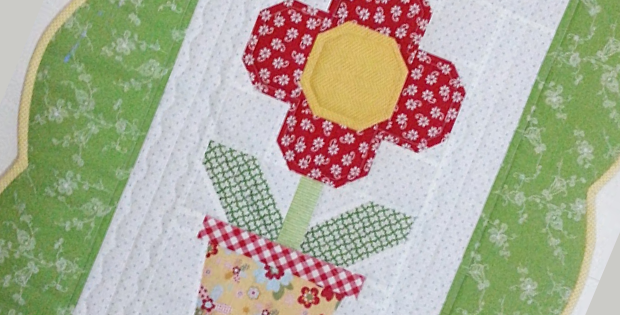 <!- google_ad_section_start -> |
Choose A Scalloped Border Or Not
Quilting and flowers go together beautifully, and the fabric that's puts the prettiest blooms on display. This sweet and simple quilt can be made in a day and would be great as a mini quilt on the wall for Spring through Summer. If you have a larger wall space perhaps 3 in a row!
Choose to keep the quilting simple and dress it up with a scalloped border. For the backing you could choose the same fabric as the pot, or any of the fabrics used for the quilt, and accent with a gingham or check binding. The backing and border are perfect to show with your most favorite print.
Lea Anne Brummett of Podunk Pretties designed the sweet Porch Bloom with a straight border, however you could scallop the border.
If you've never sewn a scalloped border, this is a great opportunity to give it a try on a small quilt. Lea Anneuses Darlene Zimmerman's Easy Scallop, or you could also use a small plate from the kitchen. Heather Mulder Petersen of Anka's Treasures, has a great tutorial here.
The free pattern tutorial for the Bloom mini quilt has some tips such as spraying a little basting spray on the back of the templates to keep them in place while cutting, and how to stitch a straight line from corner to corner without marking the fabric using Clearly Perfect Angles. ( see how to use them here)
<!- google_ad_section_end ->