Sewing Basket With A Drawstring Or Use As A Lunch Tote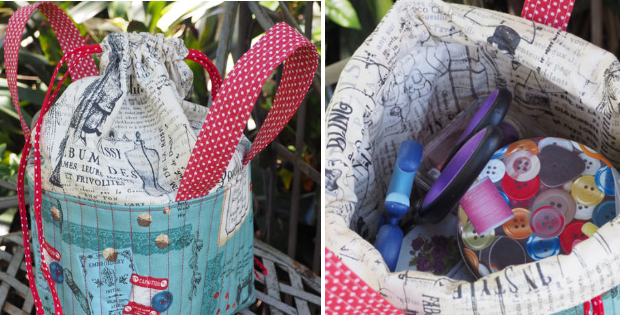 <!- google_ad_section_start -> |
Sewing Bag Becomes A Sewing Basket.
This neat sewing bag is great for retreats. It opens up to become a basket which holds more whilst taking the same amount of table space. The bag can also be used for carrying little crafty projects like yarn and needles, or any sewing accessories. When in use, the top folds down and it becomes a typical fabric basket. The drawstring closure ensures nothing falls out while in transit. The bag also makes a great gift for a quilter and is not hard to make at all!
The basket looks deceptively small but holds so much more than you would expect, and the drawstring section adds at least another 6″ to the height. The cover provides a little privacy The sturdy basket stands firm while the top is open making everything easy to find.
Any quilter would be ecstatic to receive one as a gift, and you could throw in some sweet gifts to make it extra special.
Pam from Threading My Way designed the basket especially for retreats since she always found there was little space on the worktop provided and she was always had her bag on the floor looking for bits and pieces.
<!- google_ad_section_end ->