Door Hanger Sending A Quaint Message To All Who Visit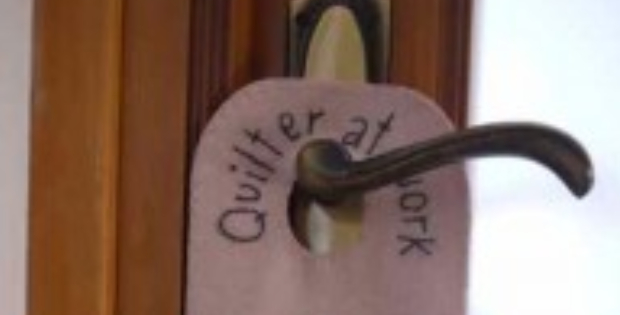 <!- google_ad_section_start -> |
Door Hanger Now We Know Who The Quilter Of The Family Is
Nobody can resist reading a message on a door hanger because everyone wants to know who's behind the door! It would give a quilter great satisfaction to hang their own message out there for all who visit. Besides it looks very quaint.
The next problem is that everyone wants to see inside but thats a story for another day. The door hanger message could say "Quilters Only". This message is as simple as "Quilter At Work" .
Well honestly…besides shopping for fabric, what else would a quilter be busy with ?!!
Make a door hanger and use this message, or make one up. This could get quite fun.
Here are a few I could think of. Add your own…
Quilting In Progress
Next. No More Room Here
Prepare To Be In Stitches
Enter At Your Own Risk
Quilting Only No Mending!
Meandering Not Mending!
Do Not Disturb – Matching Star Points!
Rockstar Quilter
Barefoot At Your Own Risk
Do Not Disturb – Pressing In Progress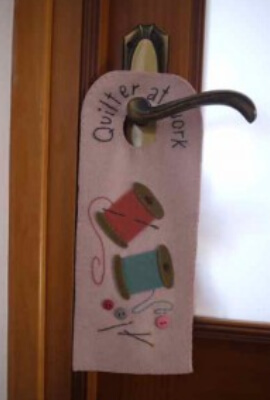 Pattern Instructions
1. Cut two felt backgrounds 4½″ x 10½″ and curved at top as in pattern sheet. Do not cut door hanger hole at this stage.
2. Trace cotton reel shapes from pattern sheet on to fusible web (bondaweb)
3. Iron bondaweb shapes on to chosen felt colours
4. Appliqué shapes in place using 2 strands of embroidery thread and blanket stitch.
5. Embroider needle, pins, threads and 'Quilter at Work' words using back stitch and two strands of embroidery thread.
6. Cut door hanger hole through both layers and finish of edges with blanket stitch in the same manner as outer edges.
Your hanger is now complete and ready to hang on your door.