Japanese Fabric Chain Quilt That Dangles The Quilt Blocks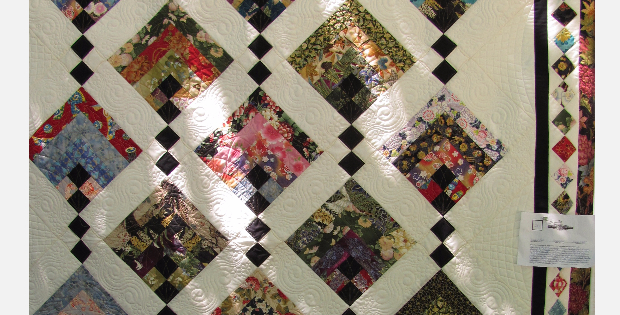 <!- google_ad_section_start -> |
Hanging Gardens Quilt In Japanese Fabric Introduces A New Dimension
This quilt was judged at a local community quilt show in Oregon quite a while back. How lucky to have it shared for all to see. Japanese fabrics gave this quilt a dreamy feel and I love the way the Hanging Garden links up with a chain making the blocks appear as though they're "dangling"!
The Japanese fabrics are so fresh and I can't imagine the blocks in any other print. The chain is just right in black or a dark solid creating the 'hanging' garden theme. The piecework in the border adds a lovely touch to this dreamy quilt, not to mention the breathtaking quilting.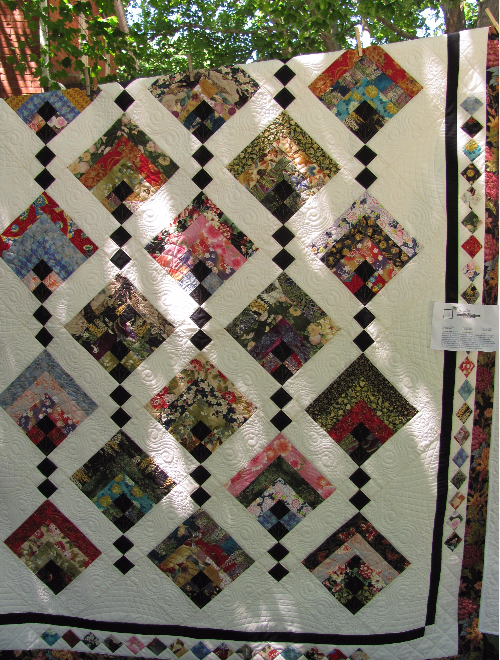 The pattern is designed for using 2 1/2″ strips and quick to make up using precut jelly roll strips. For a 78 x 78 throw you will need 22 x 2 1/2″ print strips, and 1/3 yard for the chains. A mix of small, medium a large prints, especially florals are perfect for the garden blocks and perhaps the Japanese print could be recreated by using similar colors. Then bring in some dreamy pinks.
Here's a close up of the Japanese fabric. There is some really pretty Quilt Gate Cherry Blossoms in one of the blocks. You may have something similar in your stash which would be enough to capture this 'Japanese Garden', although the Japanese fabric is stunning in this quilt and white sashing really plays up the colors. Perhaps just the addition of the Quilt Gate Cherry Blossoms would be sufficient to recreate the same sort of feel. Available here.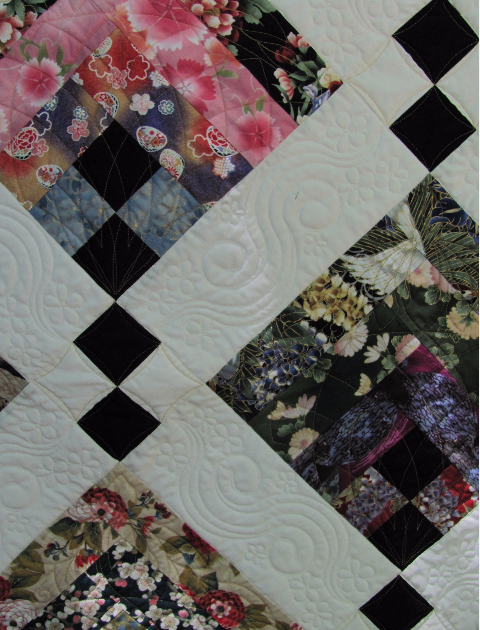 The same quilt is also made in cool water batiks. Each quilt just as beautiful in their respective decors. Using golden yellow for the chains look like diamonds. Use any fabric for this delightful design.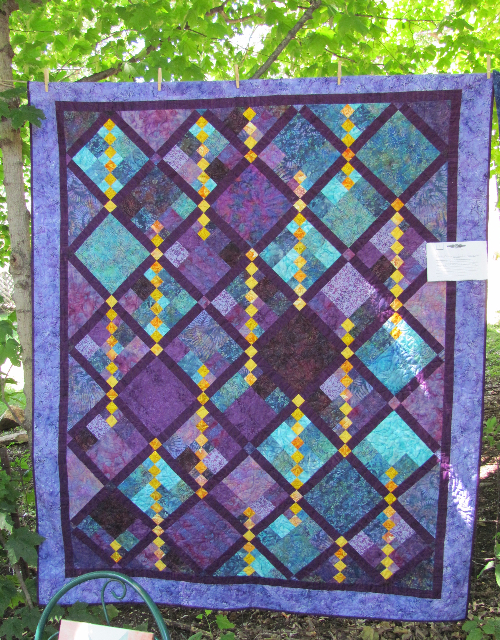 The "Hanging Gardens" quilt pattern is available for purchase.

<!- google_ad_section_end ->