Spring Butterfly Table Runner To Start The Season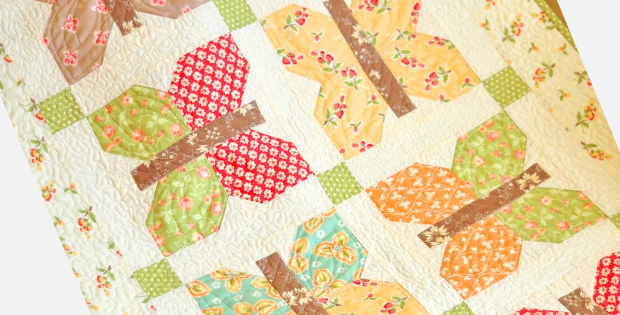 <!- google_ad_section_start -> |
Start The Spring Season With Butterflys.
I love this time of year. Spring is popping up everywhere. In the stores, along side walks and pretty gardens. It's a lovely time of year and butterflies in your home make the the perfect setting. Display this table runner with bold butterflies in a splash of floral prints for your spring decor, with a bouquet of fresh country flowers.
The butterflies are so sweet in florals. Small to medium prints in any prints that burst with orchid yellow and tiny red flowers, spring blossoms, and white daisies on a green leafy background are perfect for the butterflies. A dark cinnamon print for the body of the butterfly play up the colorful wings.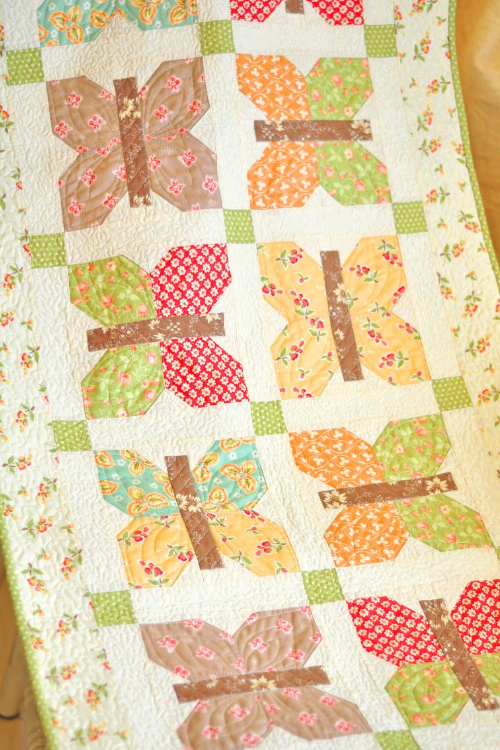 Crisp white is like spring, new and fresh for the background blocks. Use small green polka dots for cornerstones nestled in white sashing, match up with the same fabric for the binding.
The design is 10″ square friendly for the prettiest butterfly blocks. The number of blocks determine the length of the runner. Check for spring florals. You may have a layer cake put aside, just waiting for the right springtime project.
The pattern is designed as a bed runner, easily sized down for a custom sized table runner.  The same pattern can be used to make a throw to drape over the sofa for your spring decor.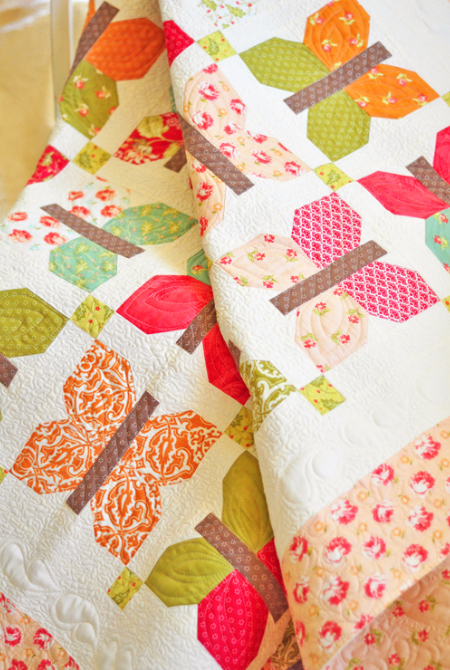 This honey sweet pattern is designed by Joanna Figueroa of Fig Tree Quilts. The butterfly quilt 'Painted Ladies' is sure to start your spring with a floral flutter beneath your wings.
<!- google_ad_section_end ->