Thread Catcher And Don't Forget To Add The Pin Cushion!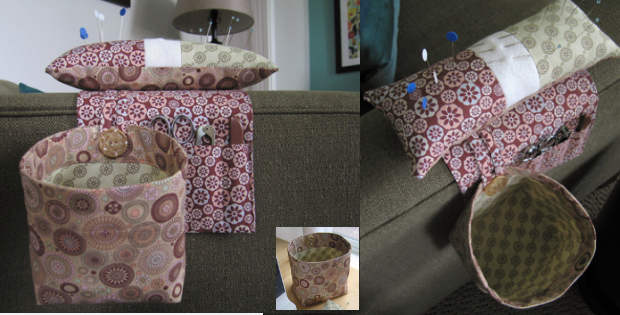 <!- google_ad_section_start -> |
Thread Catcher With Pin Cushion Add-On Great Combination.
A sewing 'catch all' is great. They spread across your sewing table keeping everything nice and clean while you're sewing. But this thread catcher is a great mobile, with the pin cushion and small cubbies too. (and you know how I feel about sewing cubbies) Moving on… The pin cushion is weighted so not only being mobile you can perch it on the armrest of your couch and it will just sit there. Being weighted, it supports the small pocket for seams ripper, scissors etc easily, and the thread catcher is attached to that. If you don't want the tread catcher for the time being, simply un button it off. How smart is that!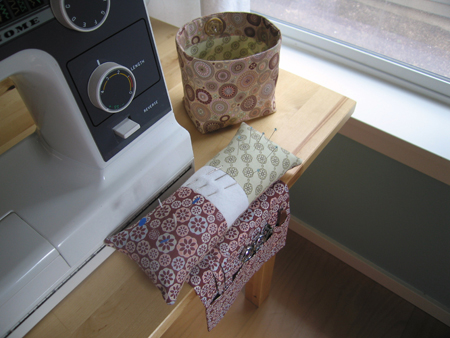 Better yet, just use the thread catcher without the pin cushion and cubby. It's totally mobile. After looking through the pattern tutorial, it looks simple and straight forward to sew. Anyone can do this.

For your fabric you'll need
Fabric Print:-
9" x 14" for Scrap Bag Lining
5" x 5" for Pincushion Top
Second Fabric print/and or solid mix and match.
7 1/2" x 23" for Pocket Panel
1 1/2" x 10" for Loop on Pocket Panel (same size for fusible interfacing)
5" x 5" for Pincushion Top
Third fabric print/and or solid…mix and match.
9" x 14" for Scrap Bag Exterior
2 1/2" x 9" for Scrap Bag Facing (cut two fromfabric and two fromfusible interfacing)
3" x 10 1/2" for Pincushion Bottom(cut two)
You will also need:
Lightweight Fusible Interfacing, sizes above
9" Flannel Square forWeight Bag
2 1/2" x 5" piece of Wool Felt for Pincushion Top
Polyester Fiberfill for the weighted pin cushion.
1 1/4 Cups Uncooked Rice
1" Button
Disappearing Ink Marker.
Right in the middle of the pin cushion there is a wool felt strip for your sewing needles. It stops me from losing my needles in my pin cushion, and you can see where they are easily. How lucky we are to get this free pattern!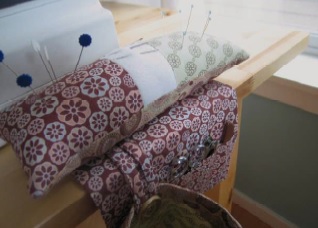 Img Source:sewmamasew.com
<!- google_ad_section_end ->