New And Exciting Picnic Quilt By Popular Demand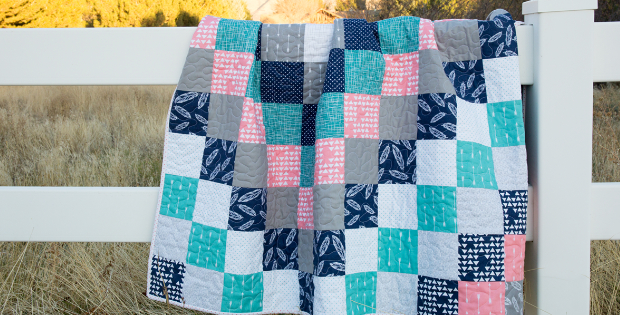 <!- google_ad_section_start -> |
'By Popular Demand' Quilt For The Perfect Picnic Setting.
Make this easy design and bring it to life using fun fabrics and crafty placement. There's nothing like a quick and simple quilting project. Add a great mix of prints to bring the quilt to life. With this 'By Popular Demand' quilt pattern, make up your own design using fabric scraps, a mix of charm packs or colorful yardage from your stash.
The simple patchwork design is beginner friendly. Create a baby quilt or throw for a picnic. It's the type of quilt you want to spread out in the park and lay down with a book. Use warm winter fabrics and wrap up in winter. Quick and easy and for any time of year!
The 'By Popular Demand" quilt is a fantastic option for pre cuts saving endless hours in the fabric store trying to work out fabric. Follow the simple steps of the pattern for placement to get a free flow design. Use a mix of navy, teal, grey and white, with a splash of salmon pink, and arrange each row into the quilt pattern.
Follow the colors of the pattern image or use your own colors. You may already have similar colors, and to capture the picnic feel add a little of the 'Navy Feathers'. Available here. The feathers print add dimension and brings in a lighthearted feel to the quilt.
Roll up and put in the car for a trip to the park. The quilt is quick and easy to make, so there'll be enough time to spend an hour in the park. Spread the pretty quilt out on the grass, lay down and relax with a nice book for an afternoon escape.
Use Simple Simon and Co's super easy design along with their great placement of color to whip up a baby quilt or throw in no time. The "By Popular Demand" quilt pattern is available as a super easy free tutorial.
See Simple Simons Basics Of Nesting Seams – Chit Chat For Beginners Here
<!- google_ad_section_end ->