Create Your Own Scenic Snowfall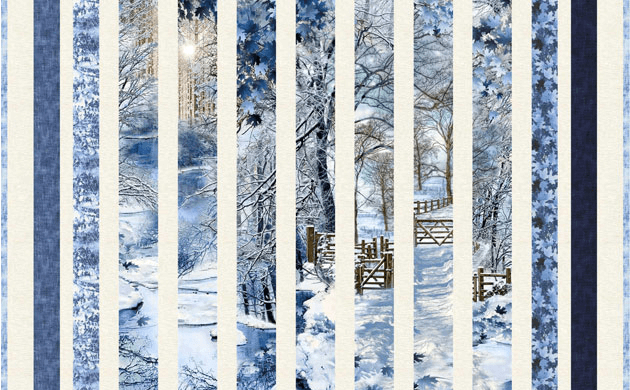 <!- google_ad_section_start -> |
Using Strips From Panel Fabric Make A Striking Wall Quilt
Use a fabric panel to create a stunning scene on a snowy afternoon in the woods. The Scenic Snowfall transformed into art, the fabric panel comes to life before your eyes.
The scene is captured by cutting a fabric panel into 7 strips of 3 1/2″ x 42 1/2″, keeping them in order by labeling them 1 to 7. Place the label near the top of the print to keep the strips properly oriented.
Find fabric to coordinate for the corner blocks. There are four different corner blocks, and use up left over strips of fabric.
A week end project that can made for any season using a scenic panel of your choice.  Stitch up this striking Fractured wall hanging designed by Pam See, to display all winter long. Finished quilt: 471⁄2″ x 671⁄2″. You can find the Scenic Snowfall panel here.
<!- google_ad_section_end ->