Dresden Mini Wall Quilt To Brighten A Small Front Entrance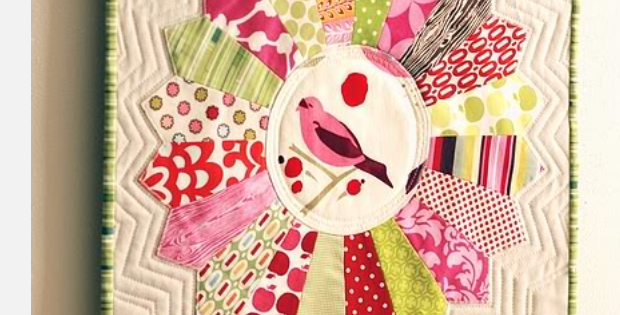 <!- google_ad_section_start -> |
A Colorful Dresden On Display For A Warm Welcome At Your Front Door.
You might be feeling you would like to freshen up your front entrance. Perhaps it's too small or lacks light. When friends and family arrive it's nice to have a warm welcome ready. Make this easy dresden and choose a pretty bird print for the center, or any other print that you would like to put on display.
If needing more light, use bright florals in yellow, lime and pink to reflect light. Add a hint of red to play up the vibrancy of the colors. The center print is the focus and sets the atmosphere. Most people love birds, or choose something that's 'you'.
For a warm welcome choose a bird or butterfly, especially if using florals for the dresden blades. If you're a cat person, find a cat fabric scrap to put in the center. For the center circle, you'll need approximately 8" x 8" square of fabric. Small florals or tiny spots are always nice, are soft on the eye and won't detract from the beauty of the dresden itself.
If wanting to reflect more light choose a golden yellow center and quilt a sunflower to bring in the sunshine. Embroider a message, or one simple word like 'Joy'.
This pretty 'bird' dresden was a great idea by Retro Mama.This quaint dresden mini quilt finishes at around 16 1/2″ x 16 1/2″ just right for a small room that needs brightening up, a small entance hall, or an area that needs light but does not offer a lot of wall space.
<!- google_ad_section_end ->