Fabric Choices Unlimited For This Delightful Quilt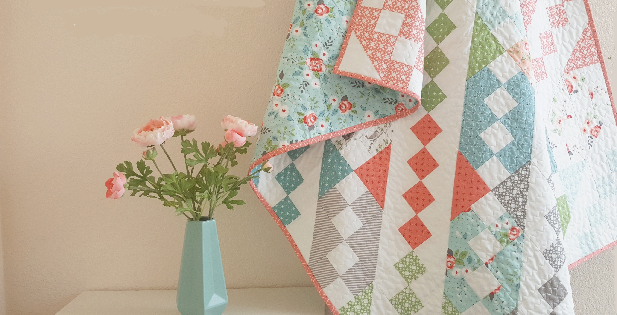 <!- google_ad_section_start -> |
A Layer Cake Throw, Or Charm Square Baby Quilt
A fun spin on the traditional "Jacob's Ladder" block,  by inverting colors and then alternating them for a fun diagonal design. Piece these blocks in any color of your choice, and super fast using pre cuts. Make a soft and pretty baby quilt using flowers and dots combined, or a throw, fresh for the season.
Put together half square triangles and four patch blocks to make up the A and B blocks, and in no time you have a beautiful, fast, easy quilt top. Enjoy fabric choices as this is one the most simplest designs, letting all of the fabric shine through. Yet the fabric brings the ladder to life!
The design is made up constructing A and B blocks, choosing colorways for each. Invert fabrics for B blocks to bring in a strong color line, and by sewing rows alternating with white A blocks, it makes the diagonal ladder pop!
Allison Jensen the designer, from Woodberry Way, explains in her fabric guide, when using pre cuts, it's a good idea to sort through and take out similar colors to the background fabric. However you may like the variation of color values, but in this design, some of the color and prints won't show up, and blocks may look blank. Easily substitute with something else a little darker, …amazing what the addition of a few scraps could do!
It's easy and fun! Included in the free pattern tutorial are instructions for a throw size 64″ x 80″, which would require a Layer Cakes, as well as a baby quilt, crib size, 48″ x 56″ using charm packs, plus a little extra yardage. For this quilt a large floral for the backing is just perfect. This pattern would work really well for a baby boy quilt using fabric that work well for boys! Any color combo's would look great. The fabric choice unlimited!
<!- google_ad_section_end ->