Fun Mini Quilt Brings Color Play Back Into Your Life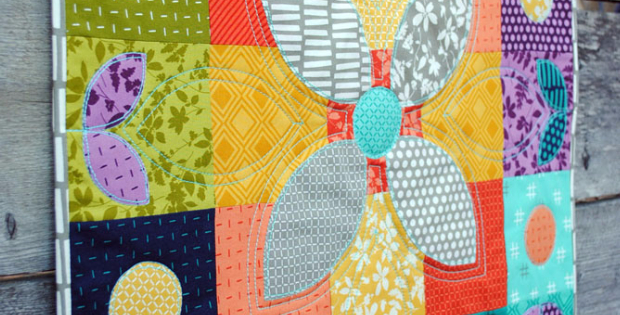 <!- google_ad_section_start -> |
Color Play Mini Quilt That Steals Your Heart.
Warm your heart having color fun with this mini quilt. It will lift your spirits and your creativity will soar. Like a child with a blank canvas and colorful pots of paint, this mini quilt will steal you away for hours. I was gasping at the beauty and the detail. The project reached right into my heart. This one you cannot ignore.
Sherri Noel from Rebecca May Designs has let the color and texture in her heart tumble out into this mini quilt, and with a quilters spirit has shared the experience with all of us. It's so captivating. Take the time to enjoy the detail as you scroll through the pictures. Although they do no justice to, here and there you can capture the gems of this mini quilt project.
Use the fabric suggested, or use what you have. This is pure delight. Play with the colors, texture and design, not to mention the applique and texture. You might have noticed the raise in the center orange peel motif, where Sherri used extra batting that made the motif pop out. Then for the top stitching used Aurifil 12 weight thread.
This Color Play Holiday mini quilt finishes at an adorable 22 1/2″ x 22 1/2″.
See more about the quilting and thread choices here.
<!- google_ad_section_end ->