Happy Snowman Quilt For Your Front Door Or Anywhere In The Home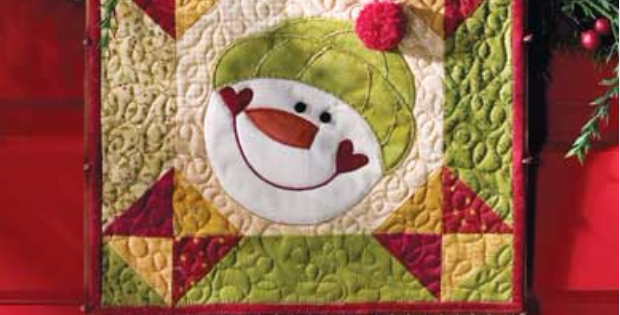 <!- google_ad_section_start -> |
A Sweet Happy Snowman For Warm Winter Greetings.
Put this jolly twinkle eyed snowman on your front door for smiles all round from all who see it. He reminds me of the fun that snow brings with it when it's fresh. Snowmen are not just for Christmas, make this in shades of blue and have something to hang after Christmas! This welcoming snowy face with a pom pom winter cap atop would be a wonderful addition to your home or the perfect gift for a loved one this Christmas. Let it snow!
The happy snowman is appliqued to a traditional patchwork block, an easy afternoon project. Hang it at the mantle, or use it to embellish the front of a metal bucket. It's a fun quilt- with a little bit of character, the fun design suitable for young and old alike. When you've finished making one for yourself, why not make an extra one or two to give away? Fabric scraps in red green and gold make up the traditional patchwork block. Use silver bells for the hanging embellishment, glass beads from scrap jewellry or buttons.
Make a couple of these cute wall hangings and get the kids to make the pom poms to sew onto the cap. It's a great family affair! The snowman can be displayed for a winter long welcome at the front door and even after Christmas.
Size: 12″ x 12″, excluding handle.
<!- google_ad_section_end ->