Just When You're Happy With Your Jelly Roll Quilts A Squaredy Cat Comes Along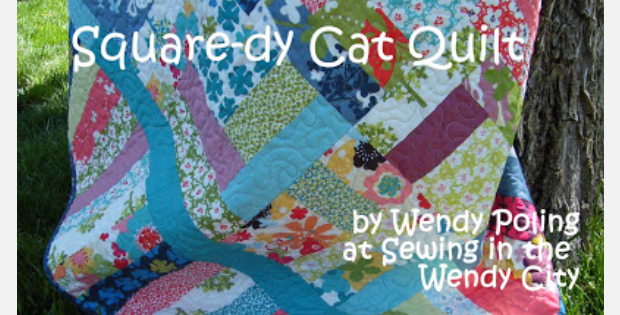 <!- google_ad_section_start -> |
Jelly Roll Quilts 'Just Wing It' And Make a Scare-Dy Cat Quilt
Aren't these jelly roll names a hoot…"Just Wing It" and it matches the Square-Dy Cat quilt perfectly. It's all about making a bed size jelly roll quilt that some might shy away from because of the sheer size of sewing this quilt on a domestic machine. Most of the quilt top is made from jelly rolls… easy. Plus 1 layer cake, a yard of co-ordinating fabric and 5 1/2 yards of co-ordinating print for the backing.
There'll be a lot of strips and squares each serving a purpose. It will be helpful to use a couple of ziploc bags, or basket/trays for each size of strips. Here's what you'll have after cutting:
18 squares that will be the centers of our blocks
4 squares that will be the corner posts on the piano key border (trim to 8″ square)
9 squares that will be subcut into 2.5″ x 10″ strips (yielding 36 10″ strips)
3 squares that will be subcut into 2.5″ x 8″ strips (yielding 12 8″ strips)
The rest of the layer cake can be pieced into the backing
From the two jelly rolls:
36      10-inch strips
72      14-inch strips
36      18-inch strips
156      8-inch strips
Looking at theses steps suddenly makes you realize how easy the blocks are. The blocks are big and come together very quickly. Here's the overview-
To each of your 18 center squares, add the following:
Add two 10 inch strips…
14-inch strips to the top and bottom
another set of 14-inch strips to the left and right
And finally, 18-inch strips to the top and bottom, completing the square at a nice 18 inch square. Press well.
Cut vertically and horizontally to make four 9-inch blocks.
These cutee blocks will appear. There will be 72. Then put 2 groups of 4 together so that you have 8 blocks. You will have 9 identical rows of 8 blocks each.
Wendy made up Piano keyboard for the border from the pile of 8 inch strips. You're also not having to deal with a very long border at one time, so you don't have to be a 'Squaredy Cat' to make this jelly quilt. Neat!
Split the strips into approximately 4 strips and piece them together as you need to to add to the quilt! Smart!
Look at the corner… genius Wendy…
Finish the corner by adding the corner post.
Very pretty.
Make a butterfly pillow with the left over scraps!
<!- google_ad_section_end ->