Fabric Basket Patchwork Or Favorite Fabric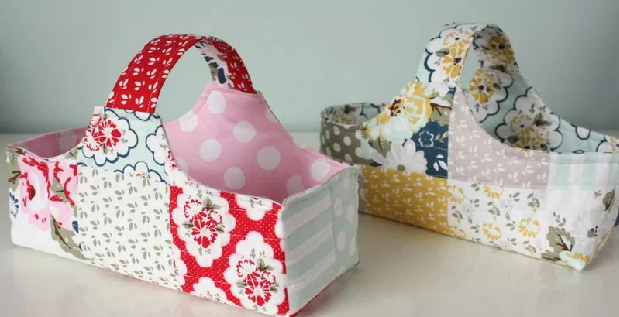 <!- google_ad_section_start -> |
Use Patchwork Print To Get A Patchwork-Quilt Feel
This sweet little fabric basket is a fun addition to an Easter celebration. The basket is sturdy, but light, for kids to collect Easter Eggs. The basket can be used for anything around the home, and especially pretty in the sewing room for storing sewing bits. A single handle provides wide space for easy access making this a very handy sew on the go project basket. It's also a convenient work in progress basket to have on the sewing table!
The design is made up of just 2 pieces of fabric for the body. Use any fabric of your choice, or for a patchwork feel, use a 'cheater' patchwork print, and add some simple lines of quilting to give the basket some texture and add to the patchwork look.
The design offers the choice of a rounded shaped basket, or, to give the basket a more boxed shape, pinch the two sides together at each corner and whip-stitch a few stitches at the corner to pinch the sides together. Use a coordinating thread to camouflage the stitches.
The pattern provides a super easy way to make the baskets, and add the handle. Anyone can make these, using 2 pieces of fabric no bigger than 1/4 yard each, and a 2″ x 8″ fabric strip for the handle. Additionally, Pellon fusible fleece, and a layer of shapeflex.
To make it extra special, fill the basket with these super cute fabric eggs. Display on your table through the Easter holiday. A basket full of fabric eggs is a nice addition to any decor, and for any time of year! They're really eye catching in the sewing room stitched up in tape measure fabric. The pattern for the easter eggs designed by Retro Mama, is available from here.
The fabric basket pattern, designed by Amy Smart of Diary Of A Quilter, is easy to follow with photo illustrations and instructions. Amy used Riley Blakes 'Wiltshire Daisy' to make these quaint baskets, or use suggested sweet country florals which you can find here.
<!- google_ad_section_end ->