Lace Cabins Wintry Quilters Village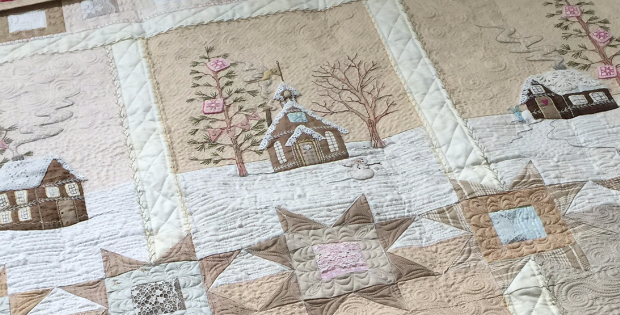 <!- google_ad_section_start -> |
What Is More Beautiful Than The First Lacey Snowfall?
Vintage and new laces embellish the roofs of this wintry Quilter's village. The cabins and quilt blocks are appliquéd, the pine trees and appliqués are Crayon tinted and embroidered, and then the new and vintage lace completes this beautiful picture!
Do you have a jar or box in your sewing space filled with old lace? Most of us hold onto these treasures, yet others make a hobby of collecting them. Your winter village could feature repurposed lace and a variety of fabrics, creating your own unique heirloom. Easy piecing finishes this 52 1/2″ x 52 1/2″ quilt using neutrals and pastels but could just as easily be made in any colorway!
Take a close-up look at the trees where crayon tinting creates added dimension, and there is even a partridge or two in the tree. Use red for a cardinal.
Use fabric scraps and keep the theme vintagey. Enhance the scene with quilting for the snow, and swirls to accent the first flurry.
Stitch a welcomed gift with lots of memories attached.
"Lace Cabins"is available as a set of six blocks including assembly instructions.
If you wish to make just one block try starting with the Lace Cabins "Schoolhouse". Block measures around 12″ x 16″ and can be used individually in a wall hanging, tote, or even in a table runner, or combined with any other lace cabin patterns. A delightful collection for any quilter.
<!- google_ad_section_end ->