Twinkle Star Baby Quilt Vibrant Colors And Simple Shapes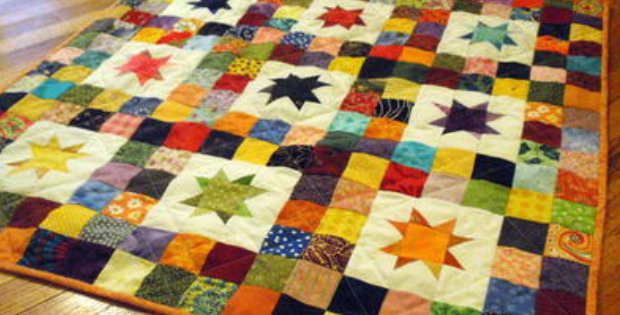 <!- google_ad_section_start -> |
Twinkle Star Baby Quilt – The Stars Are Out
With its vibrant colors and simple shapes, this Twinkle Star Baby Quilt looks like it came right out of a children's book. By following this star quilt pattern, you'll create star block patterns surrounded by blocks of colorful fabric. Use this pretty piecework project to welcome a new baby into the world. After all, nothing beats a handcrafted gift that was made with love.
This easy project also works well as a wall hanging or a lap quilt. No matter who you give this starry wonder to, it is sure to shine bright in their home or crib. A great weekend project with difficulty level based at 'easy'.
Time to use up some scraps and this star wonder is perfect! You'll be needing 208 scrappy 2-1/2″ squares. Don't be too matchy-matchy.  Variety keeps babies from being bored.  Feel like sorting some scraps right away!

This adorable quilt finishes at 34.5 inches wide x 34.5 inches long
You'll be needing
9     2-1/2″ squares for the center of the stars
72   1-1/2″ squares for the points of the stars. This quilt used 8 in each color grouping to match the 9  2-1/2″ squares above.
72   2-1/2″ squares background fabric (white here).  This is more than 1/3 yard, but less than 1/2 yard
1/4 yard for binding
1-1/8 yard for backing
When gathering up your 9  2-1/2″ squares for the center of the stars and the 72 1-1/2″ squares for the points. NOTE: Each of the point fabrics is different.  This gives the twinkle look.
Follow step by step to make the first star. Assemble as typical for a 9 patch using one center square, the four squares you just created with small points, and four plain background squares.
You have star!
Repeat 8 more times to create all the twinkle stars.
Sandwich, quilt, bind and label as desired.  For this quilt a simple diagonal crosshatch was used.  You could easily choose something else that suits you.
<!- google_ad_section_end ->