Make A Sparkling Tree For Your Sewing Room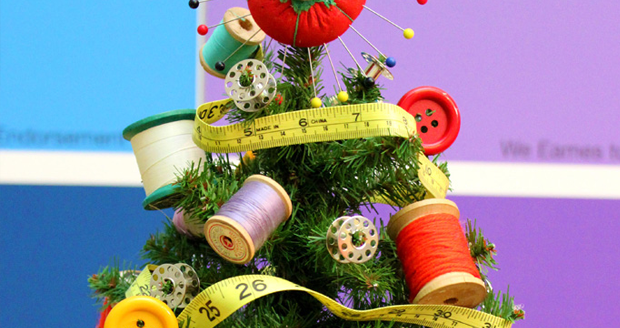 <!- google_ad_section_start -> |
With Everything From Your Sewing Room
If sewing is your passion this is just the right project to complete your Christmas projects, and you already have everything you need. Even the sewing room needs a little festivity or display the tree anywhere in your home. The pretty tree could be displayed all year round!
Get crafty with your pincushion and for once all of the pins can be in order. Position them to create the perfect star and add a little sparkle with a silver bobbin in the middle.
A fun project for a crafty weekend, the trees would make delightful gifts for sewing and quilting friends. Image this sweet miniature under the Christmas tree, and the delight on the recipients face.
Creator of the design, Jonathan Fong, and shared with his video tutorial on Craft Attitude, the tree needn't be just for the Holidays. A sewing room is naturally interesting and colorful, and using spools of thread and playful buttons to decorate, the tree comes to life with the most charming ornaments! How about that  tape measure for the perfect ribbon!
A fun afternoon project for a get together with sewing and quilting friends, and no matter what you put on the tree, it sparkles.
<!- google_ad_section_end ->