One Charm Pack Quilt Pattern With Pinwheels Framed In Prairie Points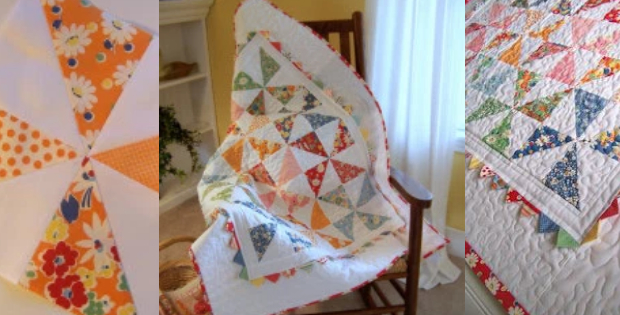 <!- google_ad_section_start -> |
One Charm Pack Pinwheels And A Bit Of Fabric
Pinwheels and prairie points make this darling lap or baby quilt. One charm pack and a bit of fabric to make a nice sized quilt of 36″ x 44″. That's a pretty good yield. Mix charm pack florals and polka dots, large and small for the pinwheel blocks.
Make 12 blocks and square to 8 1/2 inches. Sew pinwheel blocks 3 to a row. Then sew four rows. Sew a 2″ inner border strip to top and bottom, then sides.
If you've been wanting to try prairie points then this may be the perfect excuse! Make a prairie point inner border around the pinwheels. Simply fold a 2 1/2″ square in half diagonally. Fold diagonally and press. Pin points to inner border and the trick is to overlap each point ever so slightly. Baste the points close to the edge as shown in the tutorial. You'll just love that prairie point inner border. Easy!
With the prairie points around the edge, this would also make an edgy wall hanging. The pinwheels have also been made with batik fabrics on another quilt (sorry no pictures).
Once you have the first pinwheel square done it goes so quick.
A cute quick pattern pinwheels and prairie points. A great little project.
<!- google_ad_section_end ->